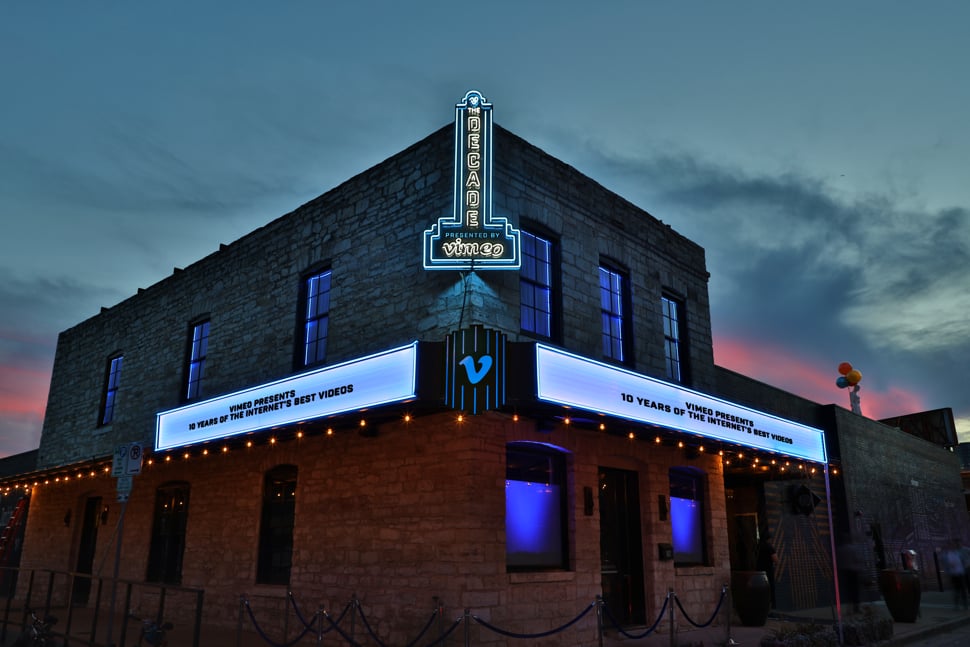 Vimeo came alive at SXSW last week. Seriously...alive and full of real humans. To celebrate 10 years of Staff Picks, we designed The Decade — Vimeo's first brick-and-mortar theater. Inside its massively muraled walls, we brought iconic Staff Picks to life in every way possible. In one room you could find inspiring presentations from Staff Pick heroes like Daniels, Kirsten Lepore, Carlos Lopez Estrada, and the DeVitos. In the next nine rooms, we built immersive Staff Pick theaters so you could "get creative" with the "Don't Hug Me I'm Scared" crew or kick it on the miniature with our favorite shoed shell, Marcel. All the while, we screened our most iconic Staff Picks and to cap off each night, there were live music performances from Wooden Wisdom (featuring Elijah Wood), Dan Deacon, and Kawehi. It was insanely fun and inspiring, but the best part was seeing filmmakers and attendees experience the amazing work of our community in the flesh. If you missed us at SXSW, never fear! We've got so many highlights to share.
In rooms usually filled with bunk beds for Austin tourists (aka Native Hostel), we tapped Austin-based creative folks PREACHER to fill The Decade with all kinds of Easter eggs that would transport visitors from behind the Vimeo player and into the heart of some of the most iconic Staff Picks from the past 10 years. The result? Vimeo surprises everywhere — see if you can spot a "late for meeting" character floating around or the "Le clitoris" educational poster.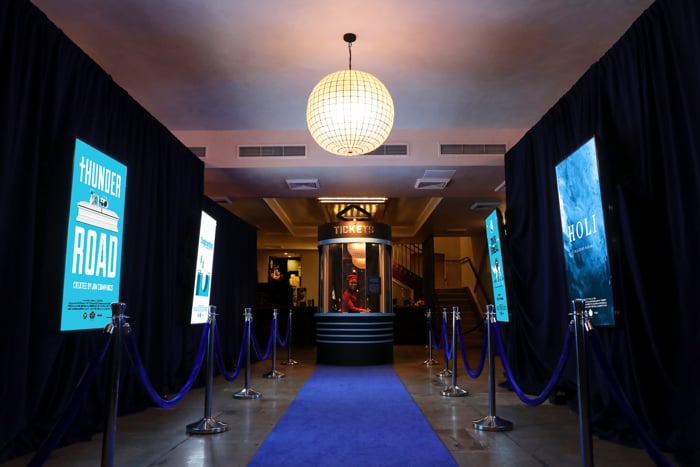 Visitors were treated to a silk-walled room housing the naked little guy from "Hi Stranger," complete with a hidden artist (aka art students from the University of Texas) to secretly draw a portrait. Once your drawing was finished, a mystery hand reached out from a hidden hole in the wall to hand it to you. We surprised the animator behind this viral short, Kirsten Lepore, with not only brilliant physical reproduction of her film, but a pretty spot-on portrait of her smiling mug.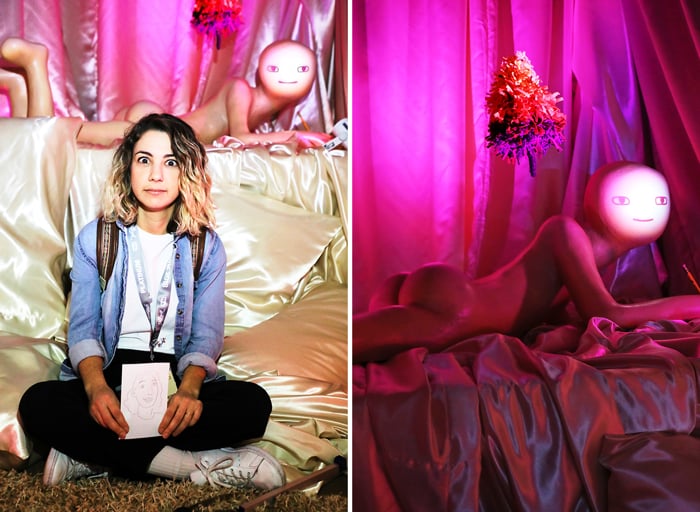 Or you could step into the living room from "Curmudgeons," where Danny, Jake, and Lucy Devito sat all day cursing out anyone who dared step into their space. Just kidding — but a recording of Danny's voice (who stars as Jackie in the short) did throw cusses at you as you checked out his vintage wares and rested your weary sneakers on his vinyl record-laden coffee table.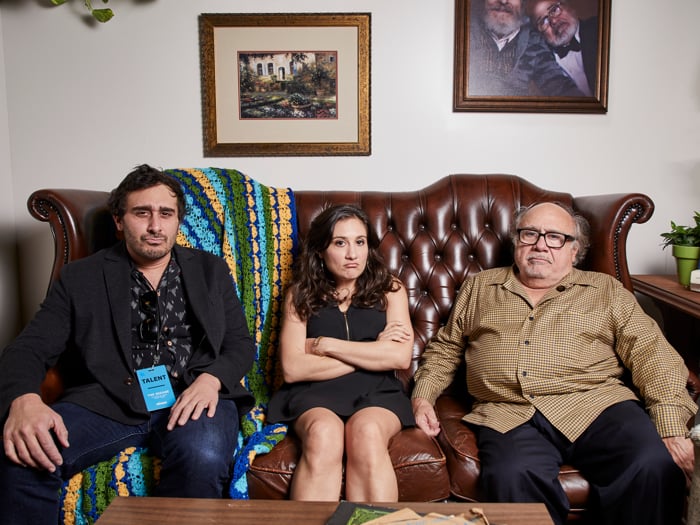 Other ultra-detailed setups at our Austin spot included a room called "Press Play to Cry," a space where the walls were lined with tissue boxes while tearjerkers like "Denali," "Last Minutes With Oden," and "4.1 Miles" played on loop. What's more, we had a ton of balloons in one room for Nathan Truesdell's "Balloonfest," flashing iPhone cameras in another for Matthew Frost's "Aspirational," and a teeny tiny Marcel the Shell-sized theater dedicated to that small squeaky dude.
Paintings made by the one-and-only Jim Carrey lined the walls in tribute to "Jim Carrey: I Needed Color," while visitors were encouraged to "Get Creative!" at the "Don't Hug Me I'm Scared" corner. There was one rule, however: you couldn't use the color green.

You may be asking, "What is a SXSW shindig without famous people giving talks?" We asked Vimeo residents Daniels to speak about how they came up with the insanely fun ideas behind their 12+ Staff Picks, and were delighted by their presentation, titled "Who We Stole It From." From what artists did they lovingly borrow ideas? Why don'tcha watch to find out?

The queen of bees' knees Kirsten Lepore treated us to a talk about how her Staff Picks, like "Story from North America" and "Move Mountain," came about. True fact: her inspirations include Leo Lionni's children's books and creepy old Halloween costumes.

Director Carlos Lopez Estrada joined Sam Morrill, Vimeo's director of curation, for a chat about his 11 Staff Picks, as well as his new hit feature film, Blindspotting. The Sundance 2018-opening film stars "Hamilton" actor Daveed Diggs and Rafael Casal, who both sat on The Decade stage to talk about Lopez' journey to big-time motion picture-making.

The DeVito family had a sit down chat and regaled us about what it was like making a short film with your family and being a Staff Pick Premiere while the audience eagerly awaited their turn to ask them what it was like being a DeVito.
Once we filled our craniums with all of the inspiration they could handle, it was time to flail our limbs under the stars. DJs Wooden Wisdom (Zach Cowie and Elijah Wood) spun up some delicious beats on Friday evening, while Staff Pick alum Kawehi and dance party puppeteer Dan Deacon made sure we didn't stop moving until the clock struck twelve on Saturday night. All of these peeps either made or were the stars of Staff Picks, and that made their contribution to The Decade celebrations even sweeter.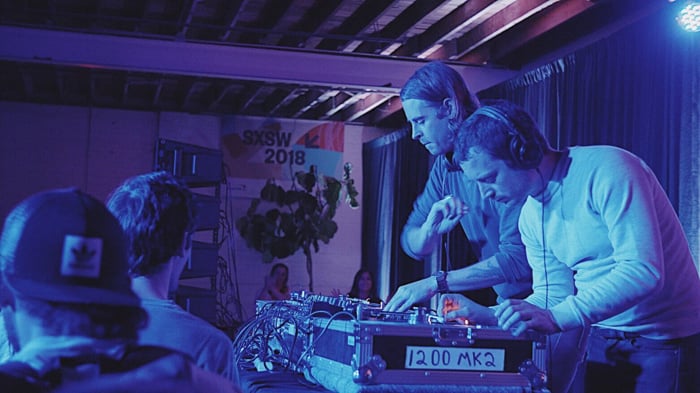 Photo by Exploredinary
Outside of The Decade, we had panels and events all over SXSW. Curator Jeffrey Bowers discussed the growing importance of online releases for short films and how distributors, film festivals, and award shows are adapting. Staff Picked filmmakers Allie Avital, Carlos Lopez Estrada, Yen Tan, Mohammed Gorjestani, Celine Held, and Logan George joined Jeffrey and co-curator Ina Pira for this year's "Vimeo Staff Picks Live: Director's Commentary" at the Vimeo Theater. And a new tradition was born at SXSW. Introducing: the Vimeo Staff Pick Award. We gave the first-ever trophy to ornana (aka Danny Madden) for their SXSW 2018 short "Krista" and its excellent editing, creative sound design, and thrilling story.
Months of hard work added up to a very eventful handful of days down in Texas, put together by a sizable group of Vimeans. To see all 100 of the most iconic Staff Picks from the past decade, check out our full list. Thanks for joining us in honoring the amazing work that the Vimeo community has made and shared — we know it's made an impact on creators over the last ten years. Here's to the next ten!