Whether you're saying goodbye to a rough year (see ya, 2020!), remembering a weekend trip, or just want to mine a recent wave of nostalgia, a slideshow video can be a super fun way to commemorate a time in your life. And while we love a memory-filled scrapbook or a sweetly curated photo carousel, there's nothing quite like a video to take those trips down memory lane to the next level. But unless you're an Adobe Pro (get it?), actually making a slideshow video might seem a little overwhelming. As it turns out, all you need to get started is a handful of photos and an internet connection. How? With
Vimeo Create
, you can easily combine your photos and video clips into a gorgeously designed slideshow video in just a few clicks. Here's everything you need to know to transform your stuffed-full camera roll into a moving video memorial.
How do I make a video slideshow online?
Anyone can put together a polished slideshow video online (or on your phone!) with Vimeo Create.
3 tips for a great slideshow video
Video is a powerful tool for conveying emotion and connecting with others. That's what makes a slideshow video so perfect for reliving memories or creating mementos for loved ones. It's not hard to make a great slideshow video. But there are some things you'll want to keep in mind if you want your results to be tip-top.
1. Tell a story
This is important. The power of a slideshow video is in the way you tell a story. Whether you're celebrating a
decades-long friendship
, ringing in a
loved one's birthday
, or just
recapping a year
for your brand, know the story you want to tell from the start. Then choose your raw materials accordingly.
2. Keep it cohesive
While we're more than down for you to mix still photos and videos together in a single slideshow, there are some aesthetic points you'll want to keep in mind. Try to choose assets that belong to the same color family. Mixing warm and cool photos can be a bit jarring, so consider choosing ones that look like they're all part of the same color family. And try to keep your photo quality consistent! Jumping between grainy screenshots and portrait-mode stunners may take viewers out of the experience.
3. Make it personal
Your slideshow video is powerful because it's personal. Make sure your video feels like you! Customize your video's text and color palette to create something that feels unique to you and the people you want to share your videos with.
How to make a slideshow video with Vimeo Create
If you've got a Vimeo account and a handful of photos or videos you'd like to turn into a slideshow, we've got some good news for you. From selecting a custom color palette to finding the perfect music backtrack, Vimeo Create makes it incredibly simple to make a video in minutes. Without further ado,
let's get slideshow-ing
.
1. Organize your photos and footage
First, categorize your photos and videos! Decide whether you want your slideshow video to be chronological or if you want to break out your footage into other categories. We suggest laying it all out in order before you even start uploading to create a rough storyboard for your video. This will make it easier to keep track of everything in the edit.
2. Choose a template and upload your assets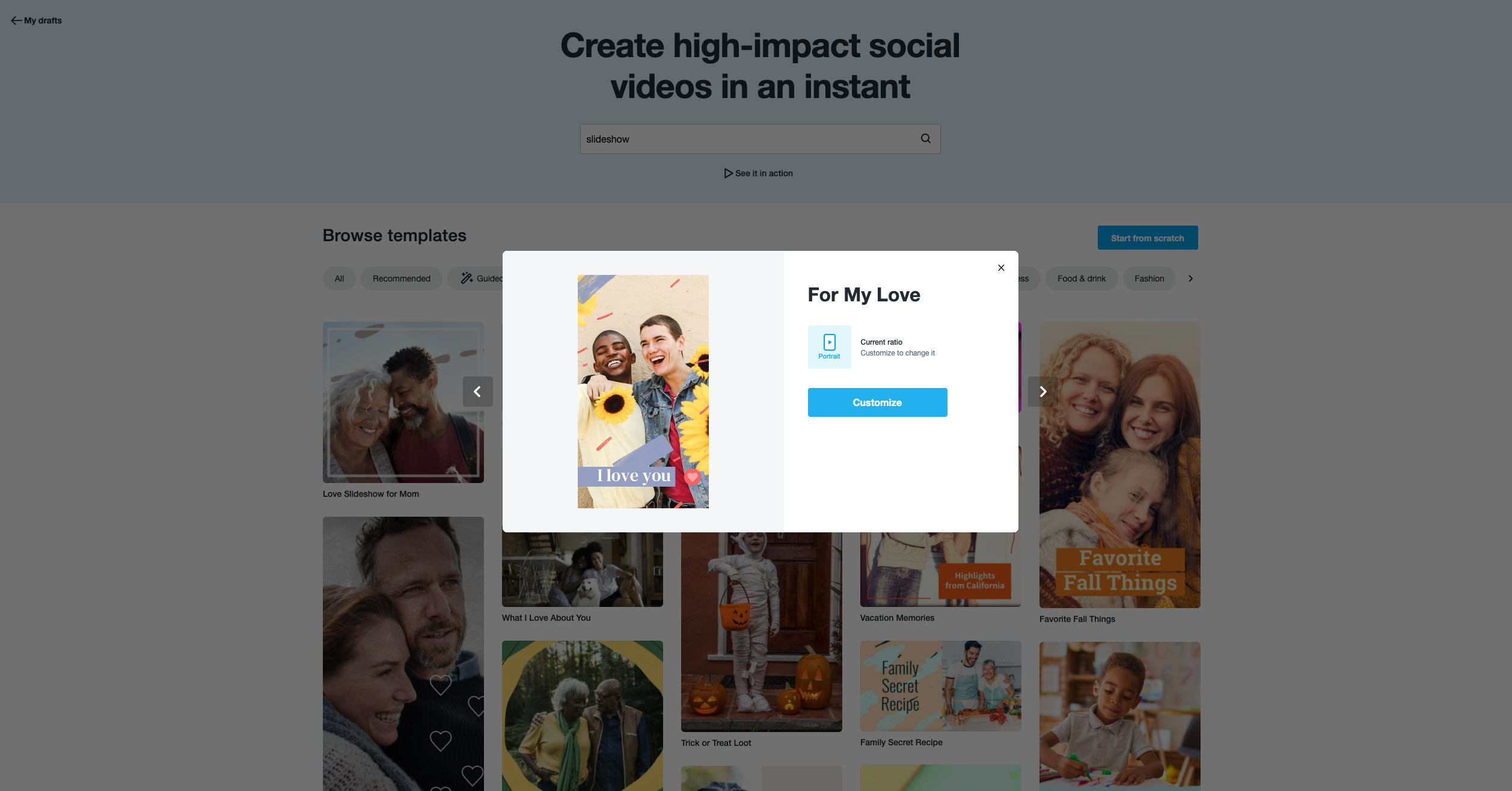 Before you upload the photos and videos you've chosen, select one of Vimeo Create's incredible
video templates.
Our AI technology takes into consideration pacing and transitions to land you at the perfect length and elicit the right mood for the vibe you're after. Once you've made your pick, upload all of your assets to your editing bay to start customizing.
Remember
: you can always start from scratch, too!
3. Pick your ratio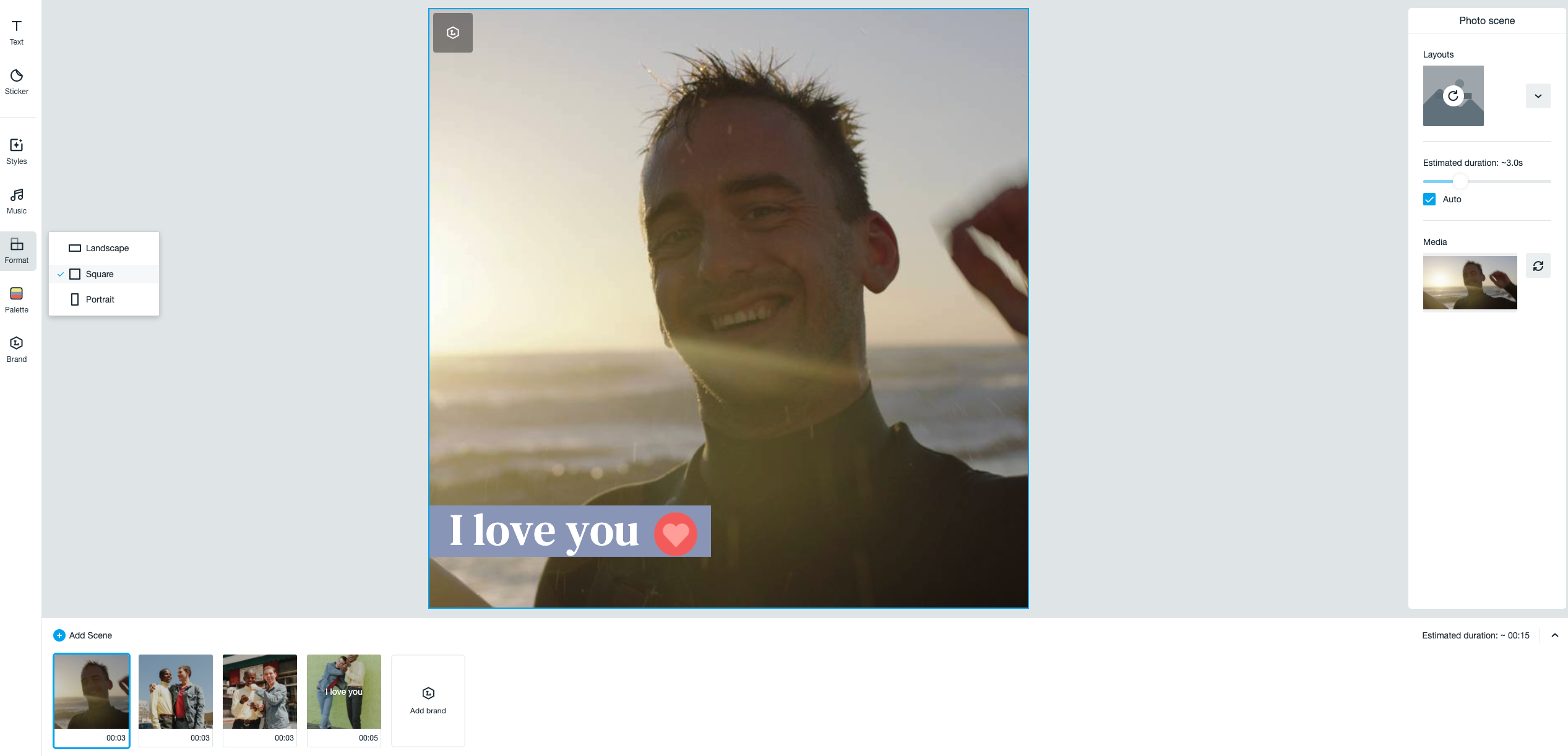 To decide what size your slideshow video should be, consider where you want it to live. If you're making a video to share with friends and family on Facebook and beyond, choose the "Square" ratio to ensure you've got a video perfectly optimized for social feeds. If you want to embed on your website or just host on Vimeo, select the "Landscape" ratio for a more classic video shape. Once you've decided, hit the "Format" button on the left-hand toolbar and choose your ratio to get moving.
4. Choose your color palette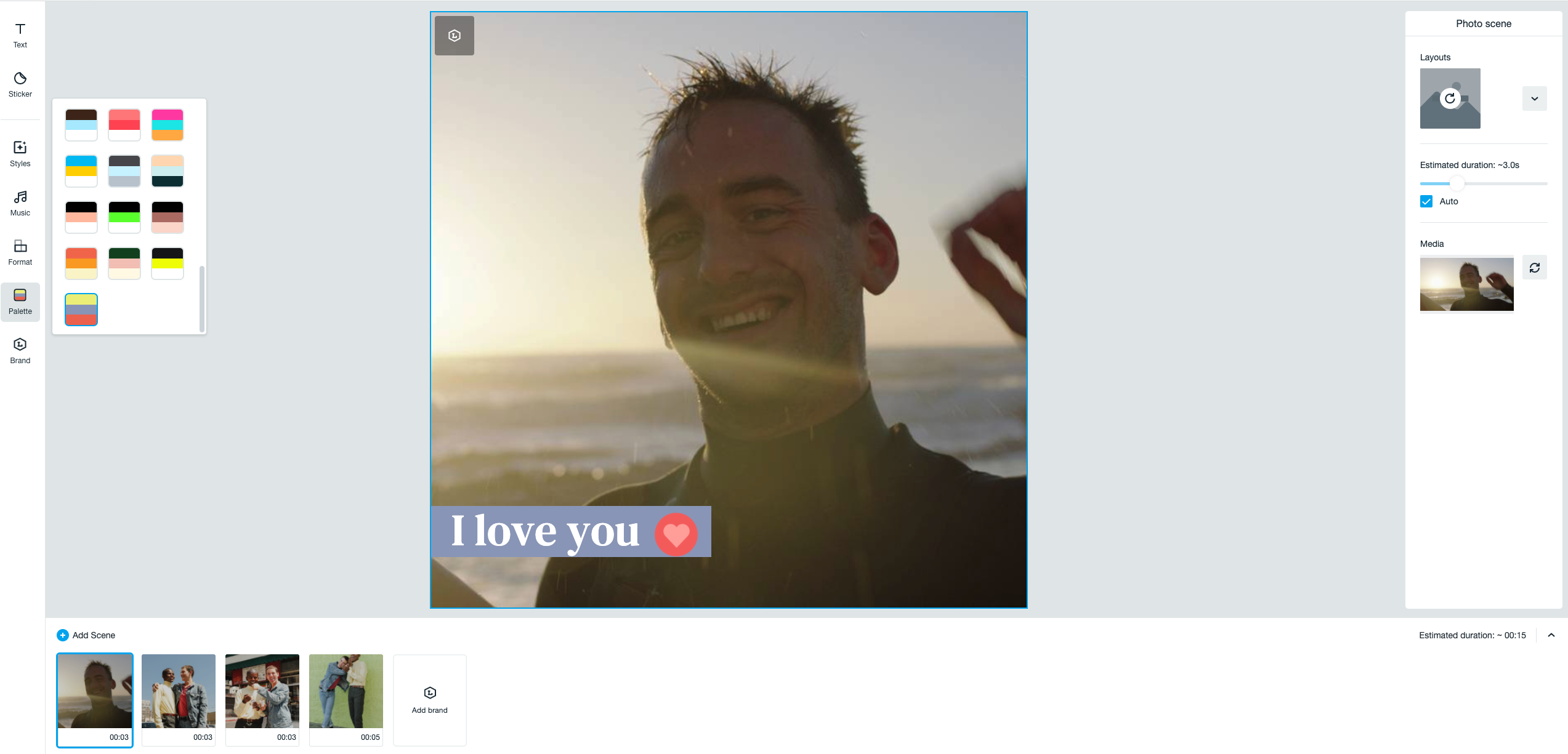 Now it's time to choose a set of colors that compliment your photos. If you've gathered a bunch of pics taken at sunset, opt for warmer tones and palettes. If you've got photos from a winter wonderland vacation, choose palettes with greys and blues to really make your imagery cohesive.
5. Write your text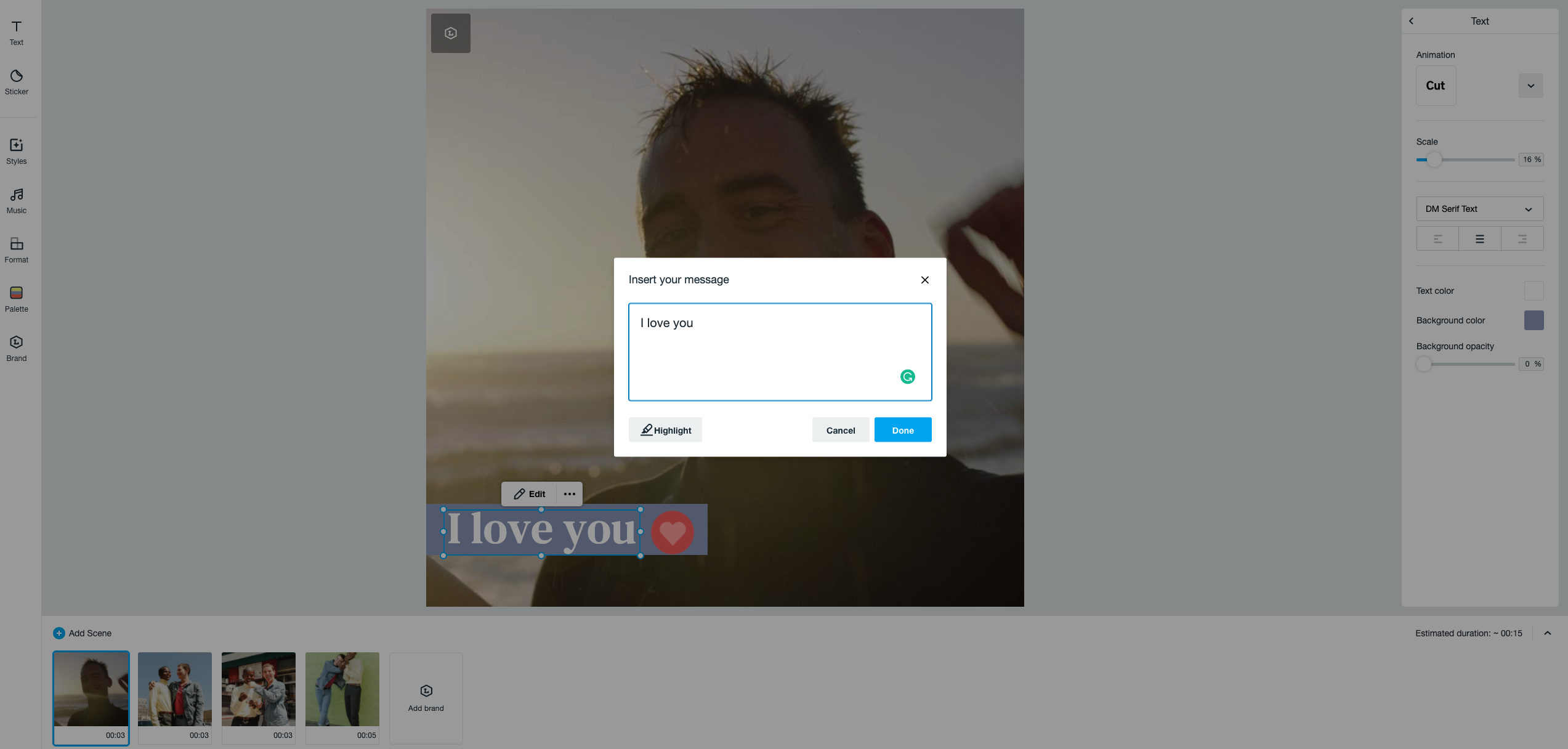 Adding small bits of text throughout your recap video is a great way to lightly narrate your video and highlight significant dates, places, and celebrations. With Vimeo Create's text editor, you can change the color, style, and size of your text to help tell your slideshow video story. If you're not sure what to say, no worries — Vimeo Create's templates come locked and loaded with pre-written text, so you can focus on the design.
6. Trim your video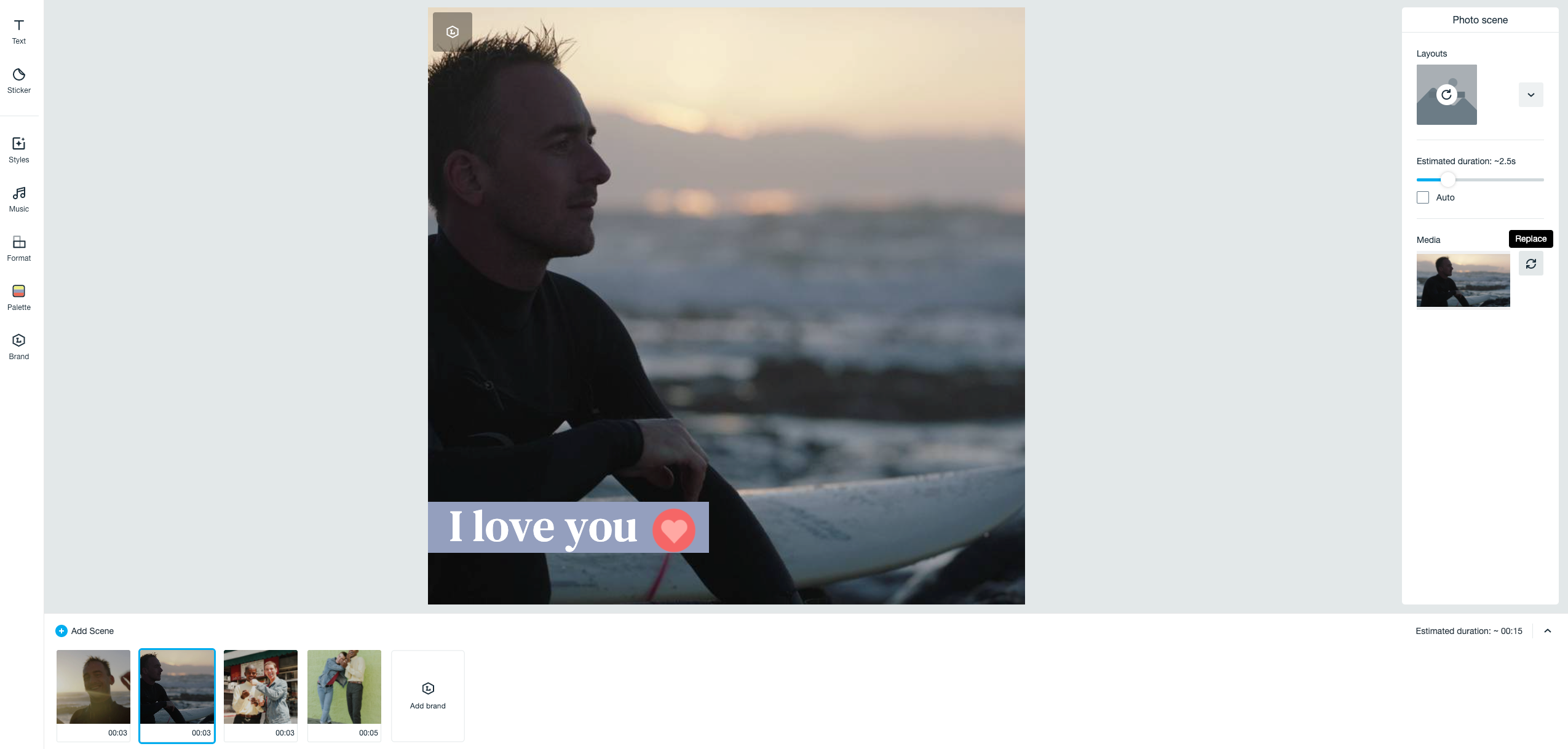 While making room for all of your memories is important, in our experience, keeping things on the shorter side is best when it comes to making videos others will actually want to watch. Depending on how long you choose to make each of your slides (5 – 10 seconds is a good rule of thumb), we'd suggest keeping your trips down memory lane to about two minutes long. That means you should allocate roughly 15 – 20 photos for each slideshow video, or risk going long.
7. Choose your music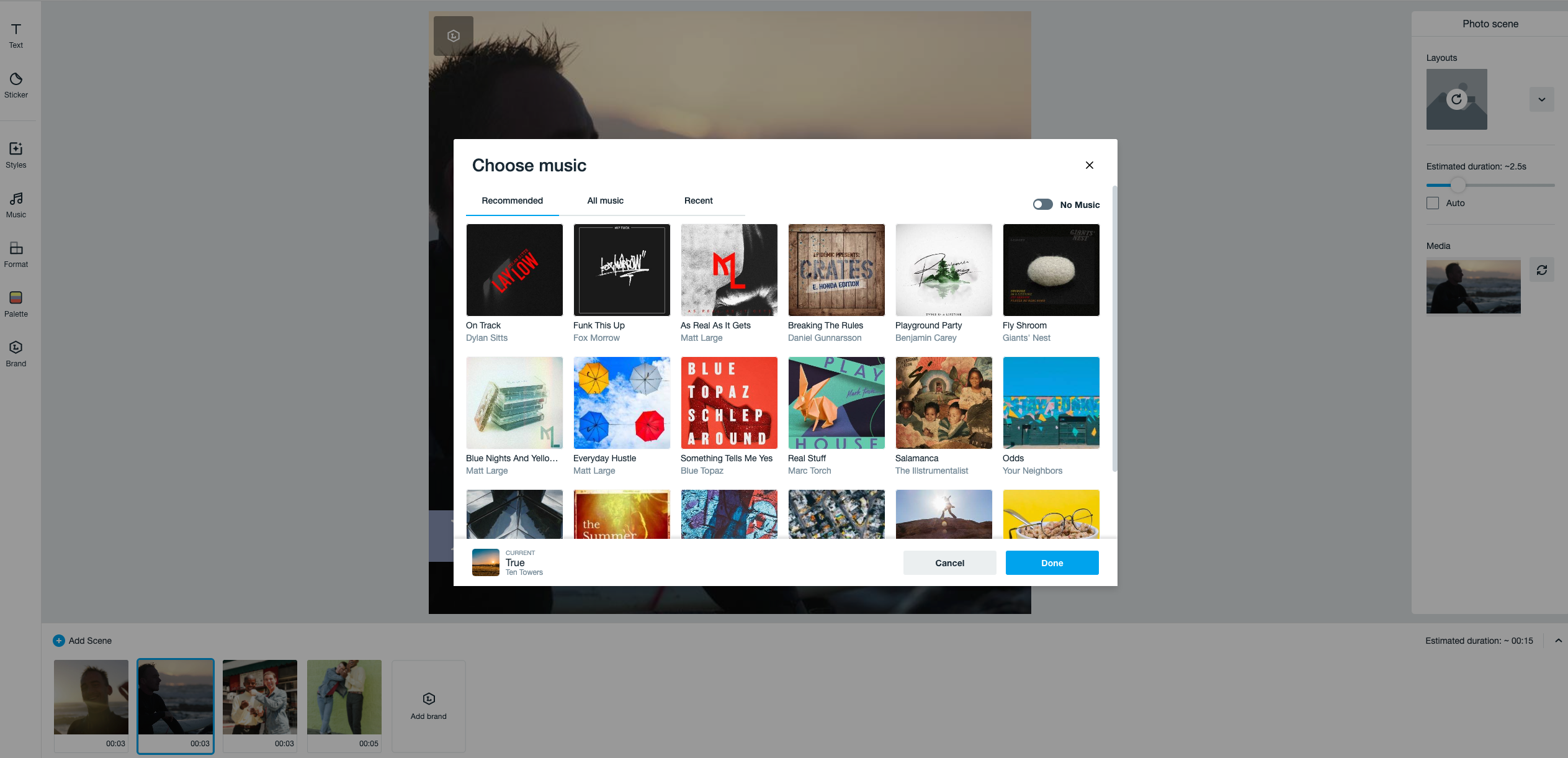 We all know that music plays a big role in tugging at heartstrings. Choose something powerful from Vimeo Create's massive audio library to get your maximum emotional effect. Our templates all come preloaded with music to suit the mood whether it's a slideshow for your family or a video for your significant other. If you're not digging the pre-selected template music, you can browse through our unlimited music library. Browse through moods, genres, categories and types to find the best fit for your video!
8. Save and share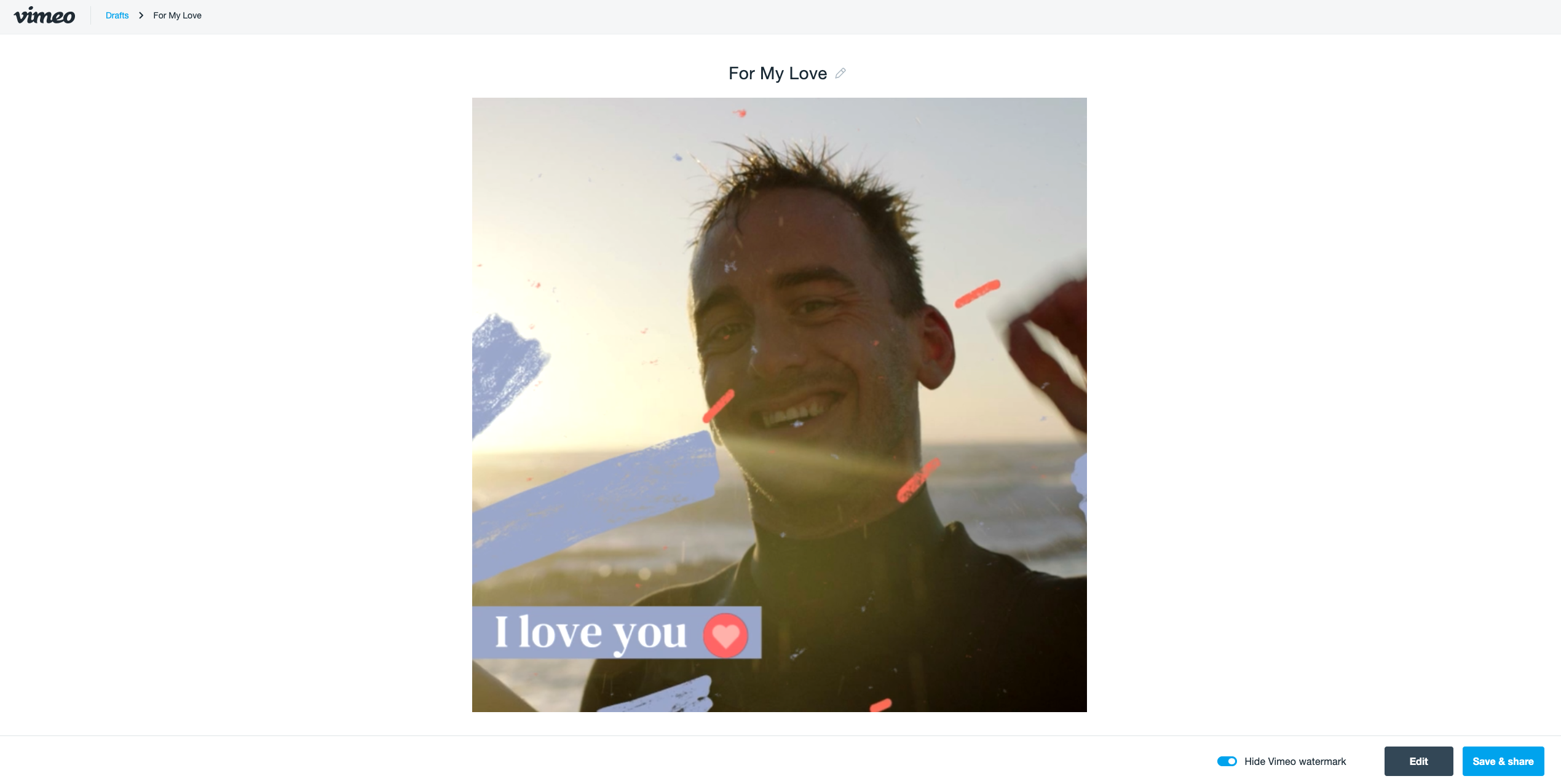 You've uploaded all your footage, selected a perfect color palette, added text, and chosen the perfect soundtrack. Now it's time to hit "Preview & Save" and watch Vimeo Create work its magic. We'll compile everything together into a beautiful finished project that's ready to share. From there, you can download the link directly to your computer or phone or share it straight to social for maximum viewership.
Our favorite slideshow video templates
While we encourage you to get creative and start from scratch when developing your next slideshow video, Vimeo Create comes preloaded with tons of awesome, customizable templates to make it easy. Here are some of our favorites:
Year-end memory video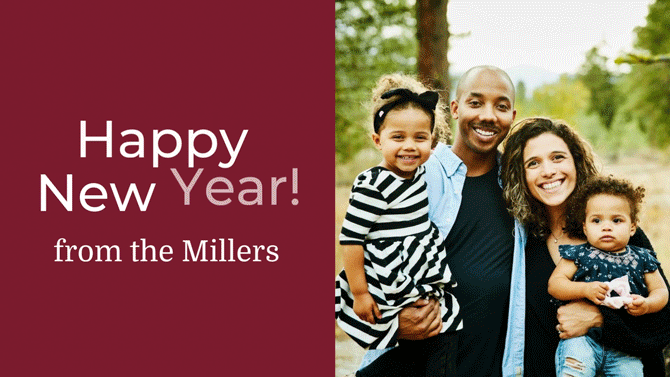 Say goodbye to bland holiday cards. We love this template for any family looking to spice up their celebrations with video. Simply select your major memories, upload a few images or video clips of your loved ones and accomplishments, and ship this out to wow family, friends, or clients.
Birthday surprise
If you're not sure what to get them this year, a touching birthday video that tells a poignant story is a great idea for anyone looking to mix it up. A video message is a great way to pay homage to a years-long friendship, or just show someone you care.
Relationship memento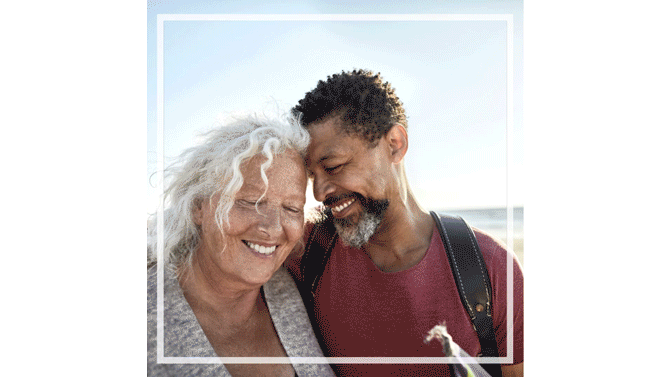 If your mom got misty during her last flip through a photo album, this video template designed to tug at the heartstrings will blow her away. Simply drop in your favorite photos together then share via social, email, or right here on Vimeo to remind her how much you care.
Vacation montage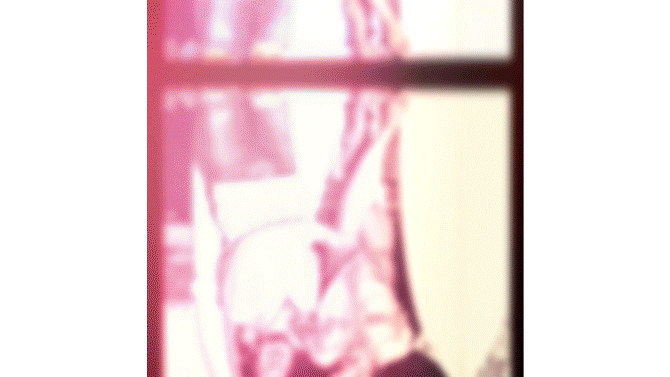 If you took hundreds of photos during your last road trip but you're not sure where to share them all, a slideshow video like this one is a great option to immortalize an adventurous trip. (Plus, it's a heck of a lot more fun than an Instagram carousel.)
Professional partnerships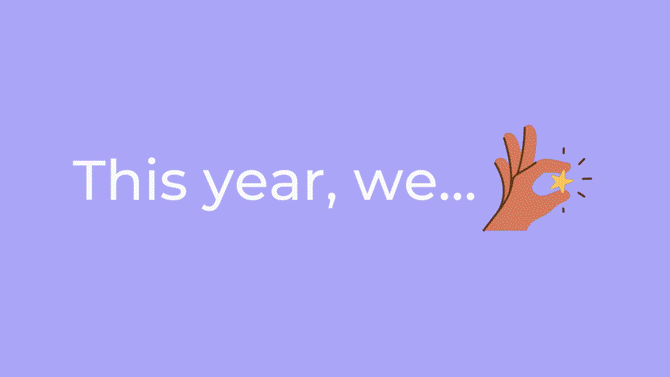 Who said slideshows were just for friends and family? We love the idea of chronicling your brand's business successes in an easy-to-share video that's great for both fellow employees and clients alike.
Wrap up
Slideshow videos are a great way to share memories and measure your professional impact. And with Vimeo Create's handy dandy
library of slideshow video templates
, making a slideshow video is even simpler than running to the store for a card.