We aim to deliver creators, their videos, and their fans the highest quality video experience possible. That's why today, we're very excited to announce support for HDR videos on Vimeo. That means we can now bring over one billion colors to the screen, as we retain as much quality as possible for HDR uploads.
All Vimeo members who shoot or master HDR footage can upload those videos to Vimeo. And your viewers can now watch your color-optimized videos on the latest HDR displays. That includes support across Apple's latest devices — including the iPhone X and Apple TV 4K — and we're proud to be the only video-hosting platform available in HDR on these platforms right now.

The four major features
Over one billion colors
We now support 10-bit video, which means the image quality is strikingly clear and cleaner than ever before. The precision and nuance of 10-bit allows us to upgrade from 16 million colors to 1 billion colors.
Your viewers can now be truly enraptured in the gradient of a sunset, the subtlety of an ocean, and the emotion in a close-up that you worked so hard to capture— and not get distracted by color banding.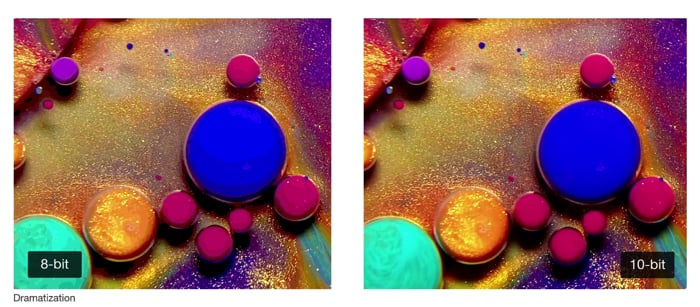 Wider color range, made for the human eye
With BT.2020 (or Rec.2020) support and wider color gamuts (WCG), your image will now represent over 75% of the color that the human eye can see. That's a big change: most modern color gamuts in videos are limited to a 35% color range. But with BT.2020, we can truly depict your deepest reds, brightest greens, and darkest blacks like never before.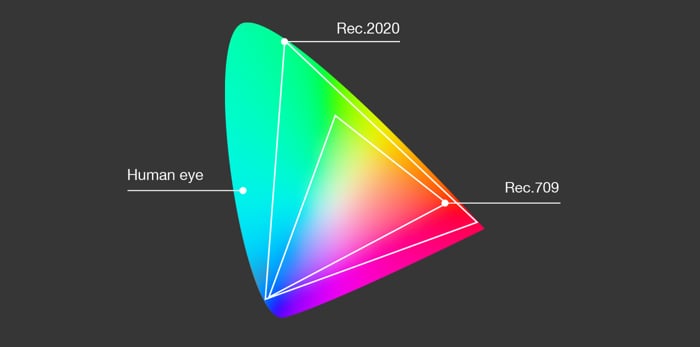 Up to 8K resolutions
We can now unlock your 5K, 6K, and 8K videos for your fans to watch on their Ultra High Def devices, or you can download them for file sharing. While 8K displays are just starting to hit the market, this isn't just about your viewers: if you shoot in 8K we want you to be able to sell, distribute, or submit to festivals in the best quality possible.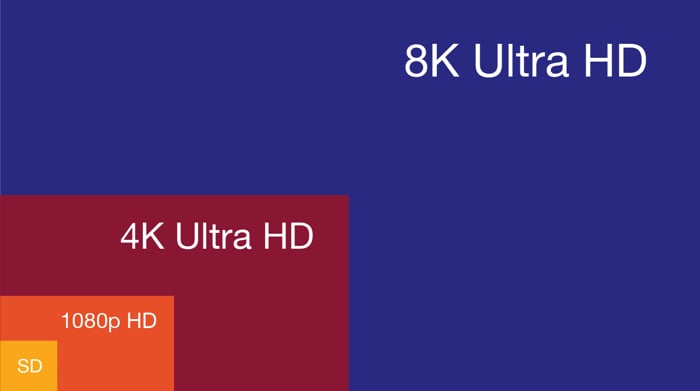 More visual data, smaller file sizes
Vimeo uses codecs — software to encode and decode video files — to optimize visual data, while delivering the highest quality.
As we evolve our platform to display even more visual data, we now leverage HEVC/H.265 transcodes in addition to the H.264 set we currently use. This enables us to unlock next-generation features like HDR, and improve efficiency, so you can view a higher quality video with the same bandwidth.
What lies ahead for codecs
While new codecs continue to come out, we're incredibly picky at Vimeo about what we use, and how we use them. As leaders in quality, we want to ensure that the growing pains typically associated with new codecs — like lingering artifacts or unsightly banding — don't impact the videos coming through our pipeline. Because of that, we've focused our efforts on optimizing the HEVC for Vimeo, and meticulously testing and iterating on our technology over the past year to ensure it's crystal clear.
And this is just the first step: ubiquity is always a top goal for us. Expect to see details on HDR for more codecs (like VP9) in the upcoming year.  And if you're eager to learn more about our transcoding approach, delve into our presentation from this year's Demuxed Conference from Vittorio Giovara, our Sr. Engineer of Video Encoding.
How HDR works on Vimeo
First, all HDR videos need to be shot in HDR, like on the Red HDRx or Canon DSLR, or mastered to HDR in post. Then you can do all these things:
Upload from anywhere
All Vimeo members can upload their HDR videos through their preferred workflow: the Vimeo panel for Adobe Premiere Pro, Final Cut Pro X, Dropbox, or directly from the upload page. Simply follow our newly updated compression guidelines, with details for your HEVC or ProRes video sources.
Watch, review, download
Videos available in HDR will include an "HDR" badge on the video page and player. We automatically detect and display HDR whenever it is supported.
In order to watch HDR videos, your viewers will need a screen that supports HDR10 and HEVC. And since we now work across the newly released iPhone X, iPad Pro, and Apple TV 4K, the tricky process of finding and viewing HDR just got much simpler.
If you don't have an HDR-compatible system, you can still download HDR HEVC files for your sharing and file transfer needs. Anyone who receives the video file can watch it on HDR-supported devices with the QuickTime or VLC players.
But what if your viewers don't have an HDR-supported device? No problem. We will always create a separate SDR-optimized version of your videos, too. We know that an HDR file doesn't look great on an SDR screen, and we don't want your picture to suffer as a result.
And rest assured, as more hardware and software comes out with HDR support, you'll see our list of supported platforms continue to grow.
Sell worldwide
You can now also sell your HDR videos with Vimeo On Demand or with a custom subscription-based model. That means both video professionals and networks can finally distribute and sell their HDR videos — especially as the viewer demand for these striking videos continues to grow.
Ready to try it out? Start uploading your HDR footage now. As always, let us know what you think, and what you'd like to see in the future.