There's no denying that we're living in a defining cultural moment. A war of ideas is taking place on many fronts and fundamental principles once considered secure are being threatened by fear of the other. Anti-immigrant vitriol and policy is gaining support, while bans, deportations, and border walls have become ubiquitous in public dialogue. With pundits and politicians engaged in games of rhetoric, it's sometimes easy to forget about the very human lives at stake. With this in mind, we're proud to feature Naghmeh Farzaneh's "Scent of Geranium" as this week's Staff Pick Premiere. By using her own experience as an Iranian international student in the U.S., Farzaneh gives voice to the fears, doubts, and complex range of emotions that immigrants face and makes a powerful call for a more compassionate approach.
Farzaneh wanted to share her own unique story — leaving Iran as a young woman, at a time when the "Arab Spring" dominated headlines. But she also recognized that she shared feelings of anxiety, homesickness, and isolation with many other immigrants around her. She used this to ground the film in specific events but also touch on larger themes of alienation. When asked about her intention for film, she points to two groups: "First, for those who haven't experienced immigration, I think it is important for them to know the challenges and consequences an immigrant faces every day. And second, for those who have had this life-changing experience, I want them to know that they are not alone, that all immigrants have been challenged by the experience of immigration."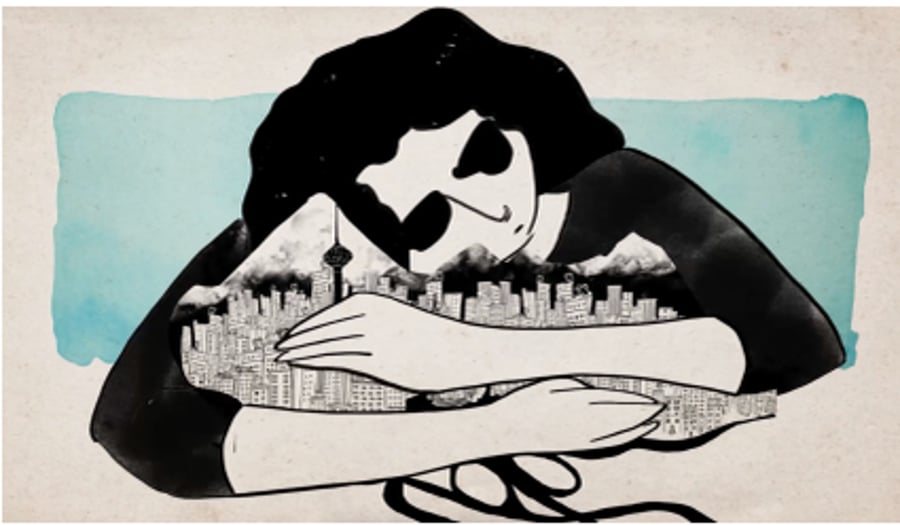 To capture her journey, Farzaneh used her training as a painter to mix of traditional and digital techniques. The result is beautiful hand-drawn animation that feels like a painting come to life. Her minimalist black-and-white style adds another emotional layer to the film, as flourishes of watercolor act as visual accents but also balance difficult memories.
Metamorphosis is a running theme throughout the film, used as an apt metaphor for immigration. It is most vividly captured by the mother's geraniums, which bloom in the final frames, but metamorphosis is also present in the clever compositions and transitions between memories. This, along with Farzaneh's witty observations, gives the film its ultimately hopeful tone. According to Farzaneh, this was in response to the generous friends that made her feel welcome. "From the very first day I arrived in this country I met many amazing people who changed my life in so many ways. They helped me to learn, find my place and to shape myself in this new chapter."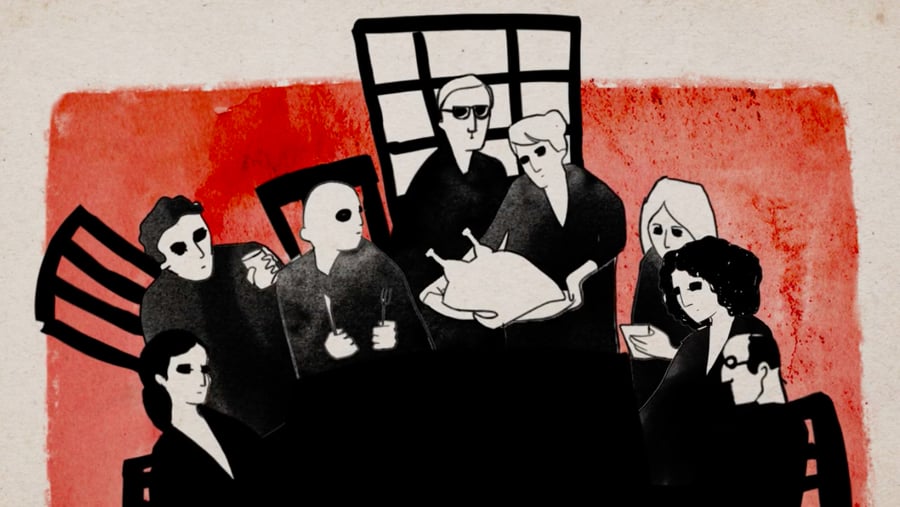 With such a personal story, film has the unique power to look past generic headlines and offer new perspectives and shape how we engage with each other. In the wake of our current political climate, "Scent of Geranium" is a necessary reminder about our role as friends, neighbors, and colleagues to not only exercise empathy, but actively support those in our communities who might feel paralyzed in their new country.
We'd like the thank Naghmeh for sharing her story with us and look forward to sharing more of her work on Vimeo!
Check out more of Vimeo's Staff Pick Premieres here.
<
p>If you're interested in premiering your short film as a Staff Pick Premiere, please check out vimeo.com/submit for more information.