If you're in the world of video production, you know that having the right gear is essential. But even if you're well-versed in more traditional production, live events can require a totally different set of gear to achieve the look and feel you want.
That's why we put together a list of seven handy live video tools to help you keep your Vimeo Live streams steady, clear and captivating.
Tripods

Price: $24.95 – $149.95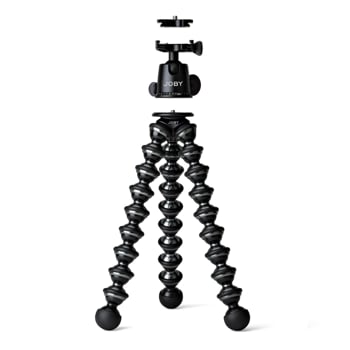 Joby has your HD tripod needs covered with their GorillaPod options. With ballhead mounts for DSLR support, the GorillaPod can work as a traditional tripod or double as an easy-to-use hand mount.
These flexible tripods will help you find creative ways to frame your live streams in any situation or environment. Plus, they're available in a wide range of prices. So you can find the right tripod for the job, no matter the budget.
Portable Chargers

Price: $39.99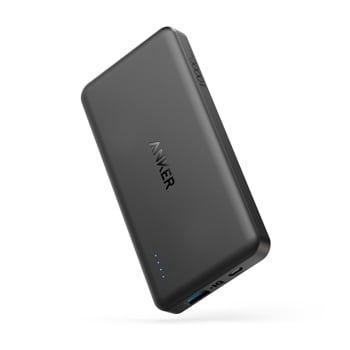 When you're live streaming somewhere remote, having one (or several) portable chargers can be a lifesaver for your production. We're big fans of Anker's PowerCore 20100mAH (pictured above) because it's perfect for charging the basics — iPhones, iPads and other Smartphones — but you can also add other Power Bank options to power your cameras, audio equipment, lights and more.
High-quality microphones

Price: $149.99
Rode has built a strong brand in the video production world with their solid, versatile audio recording offerings. While their classic video mic (pictured above) is a great addition to any DSLR or mirrorless camera set-up, it's also a perfect for live streaming professionals looking to boost their in-camera or in-device audio recording quality.
Audio adapters

Price: $143
In the same vein, if you're looking to utilize multiple audio channels (and prefer XLR quality audio), Beachtek is a great tool to use in conjunction with almost any audio setup.
Simple LED Lighting Kit

Price: $298
As you can see in the above breakdown by Tom Antos, cheap LED lights can be a great resource for creating professional three-point lighting setups. In this example, CAME-TV LED lights are used, but there are many affordable options out there.
Sometimes you may be able to get away with one LED light — occasionally, it might even give you a unique effect. But usually it's best to try and utilize a three-point lighting setup to create dynamic compositions for your live stream. And any of those should do the trick.
Multi-camera production tools

Price: $700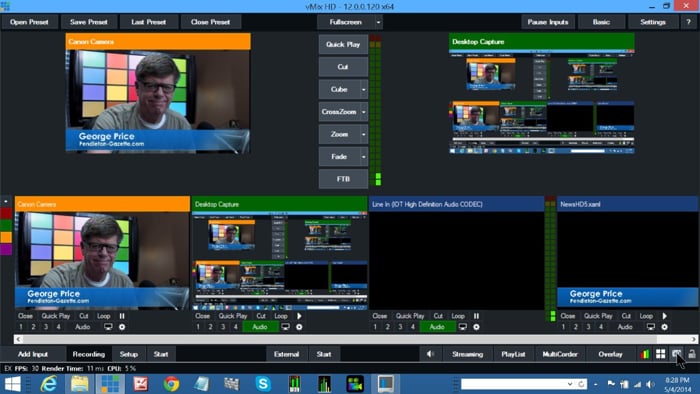 If you're looking to maximize the capabilities of Vimeo Live, try live streaming with a multi-camera setup. It may take additional resources for mixing (or switching) between shots while broadcasting live, but the effect can be incredibly engaging.
The vMix switcher is a terrific software option that allows you to mix and monitor several different live angles at the same time. You can try it for free, but for the best quality their vMix 4K software is the way to go. It supports a full range of video files, multiple inputs, overlay channels, and more.
Live stream ready cameras

Price: $299
If you're looking to jump into live streaming and want a specific tool for the job, the Mevo Camera is one of the best options on the market. With a 4K sensor and up to 1080p30 streaming at 6Mbps on Wi-Fi, the Mevo is a powerful live stream ready camera that you can count on.
Price: $399
Similar to the Mevo, but slightly pricier, is GoPro's HERO5 is another great resource. GoPro's action-oriented brand offers all the expected rugged and waterproof features for the rough-and-tumble live streamer. And added perks like built-in stabilization and voice control make even the most extreme live video feel slow and steady.
Price: $1,699
For those looking to spare no expense on their Vimeo Live footage, a higher-end live stream ready camera like PTZOptics' Gen2 PT20X Live Streaming Camera may be the best bet. The PT20X is capable of full 1080p60/50 recording and streaming in H.265. And the camera itself offers a 20x zoom at a low-light friendly f/1.8 – f/2.8 aperture.
Ready to put all this gear to use? Make sure you're ready with roll camera with our things to check before going live post. And we'll be adding lots more insight on all things live streaming, so keep your eyes up and ears down on our Video School blog.