Since we launched a live streaming platform last fall, we've seen our community embrace all things live. We watched your concerts, sporting events and workout programs, your product announcements, global conferences, and even waved goodbye as your rocket blasted into space. We paid close attention to how you all are utilizing the platform, and we continue to strive to deliver the best live streaming experience for you and for your viewers, based on the feedback we collect from you.
Check out these updates and take your live events to the next level.
Live events on your profile page
Everyone knows live video's greatest superpowers are exposure and views. And you, our beloved community, told us discoverability mattered to you. Many of our regular live streamers voiced that having your upcoming live event appear on your profile page would greatly increase your exposure.
So, we decided to make it happen.
On a fundamental level, your profile page on Vimeo represents you, your brand, and how you want this wonderful and supportive community to view your work. So, it's only natural to prominently feature your live events to clue your existing (and soon-to-be) fans in to what you're up to. Whenever you create a live event it will automatically show up on your profile page — regardless of if it occurs in two hours or two months.
If you don't want everyone knowing about your events, you can still hide your live videos in your video settings and at the start of the live video setup flow.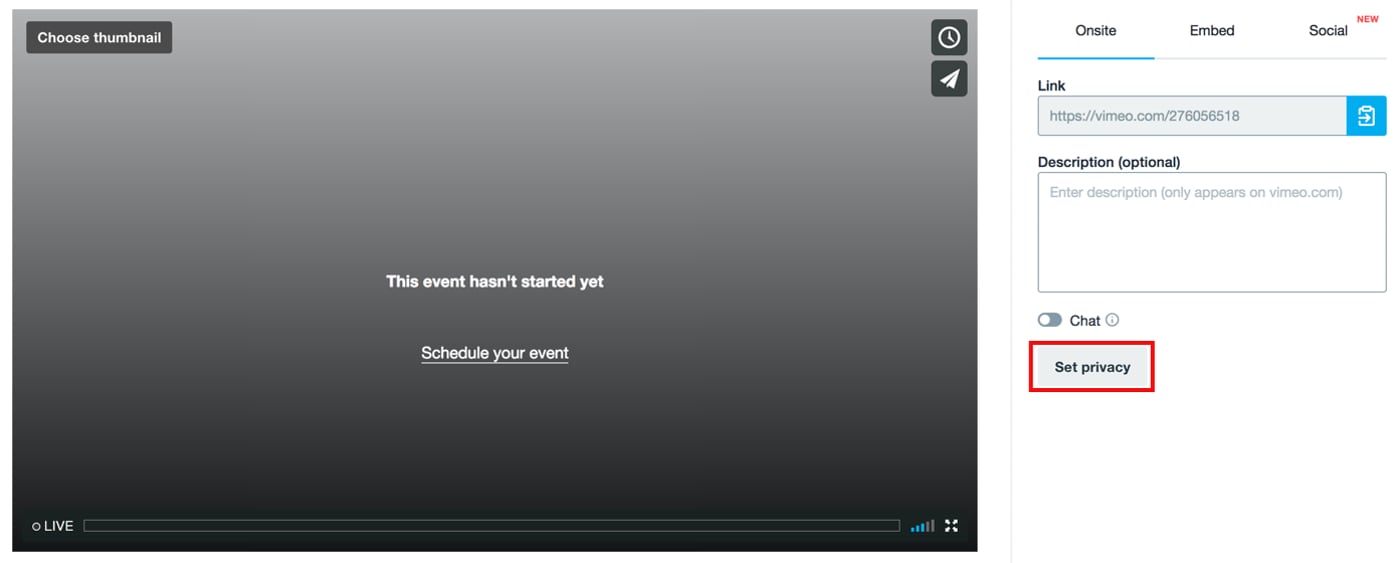 Once you create your live event, tap the 'set privacy' button and you can control who sees your event. And, of course, it will still live anywhere else you are embedding or promoting it yourself.
Live viewer count
It's here! You can now see the total number of concurrent viewers tuning in to your live stream, right inside the player. That means you can get a sense of when the most people jumped in, when the fewest people engaged, and everything in between. Knowing your viewer count gives you real-time insights on how your live event is doing and how you can improve during your stream or subsequent live events.
If you'd rather focus on simply nailing your event, and not on your real-time viewer count during your stream, you can hide it in your account settings.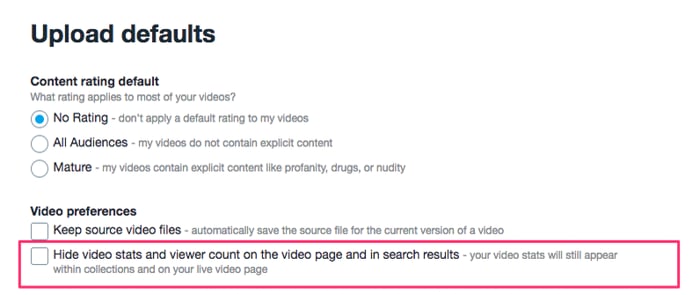 Post event stats and analytics
While it's important to see your viewer count in real time during the event, we now also make more advanced stats available to you after your live event concludes. This is all about giving you valuable post-event insights. Advanced stats and analytics will help you identify where your audience is most engaged. We decided to make those available to you after your event has ended. Creators can now access live stats by looking at their video stats after their event is over.
Simulcast live toggles
Simulcasting is one of the best ways to reach a wider audience, by simultaneously live streaming your events to Facebook, YouTube, Twitch, Periscope, and more — along with wherever you embed the Vimeo player. Previously, simulcasting had to be configured before going live. We decided to change that. Now you can add (and subtract) destinations mid-stream. This is perfect to employ when you want to share key portions of your live event with third party social platforms. For example, you might want to go live on Vimeo, your website and other social networks at the start of your event, but disable streaming to social networks the moment the keynote speaker steps on stage (while keeping the rest of the event available only on your website to drive traffic back there). It's a great tool for posting live teasers on your social channels. Use toggles to promote your website or entice viewers to watch the full live stream.
At a more behind-the-scenes level, you can also use this feature to gate content to VIP members in your community, pre-show content, and beyond.
There you have it. A lot of big little tweaks to help you and your live streaming efforts go the extra mile.
As always, let us know what you're loving, and what you'd like to see in the comments below. We're always interested in improving our product, and making sure you can rely on Vimeo as the best live streaming platform on the market.