In November, we announced one of the most important evolutions in Vimeo's history: Creator Services, a suite of features to help creators make more money by making great video. First came Tip Jar, which lets fans give kudos in cash. Then came Movies, the first pay-to-view experience on Vimeo, featuring six full-length films that would never have had a home on Vimeo before.
Now we're thrilled to announce that Movies were just an appetizer. Introducing the main course: Vimeo On Demand, a totally open platform that enables you to sell your work directly to your audience. If you're a Vimeo PRO member, you can distribute your work the way you want, with all the power of Vimeo's HD player, easy-to-use tools, and wildly passionate audience.
Ready for some specifics? Here we go:
90/10 revenue split
You keep 90% of revenue after transaction fees, and we cover all delivery costs. You read that right — 90%.
Your audience can watch anywhere
Your work is available online, as well as on mobile devices, tablets, and connected TVs, all in gorgeous HD quality.
Customizable design
You can completely personalize your Vimeo On Demand page to match your work and bring it to life.
Amazing flexibility + control
Sell films, episodes, and more at the price you want, anywhere in the world you want — including on your own website.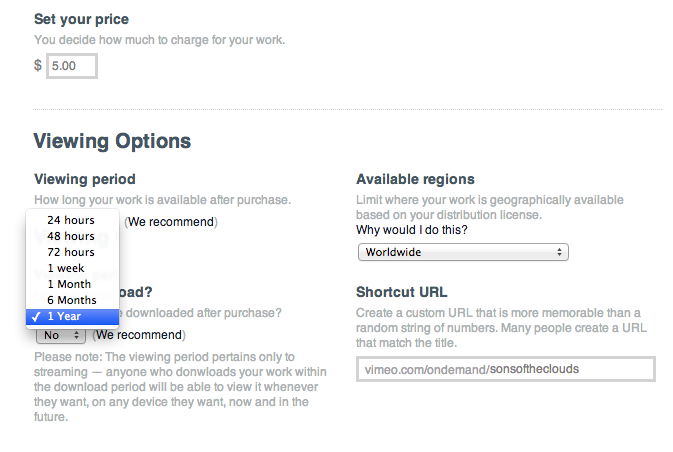 We're creators ourselves, and we know how hard it can be to get your work out there and connect with an audience. Since we founded Vimeo in 2004, we've been dreaming of a world where more and more creators can support themselves with their work alone. Today we're proud to be taking a big step in that direction, and there are many more exciting steps to come.