Newsflash: Vimeo 360 is alive and kickin'. Built for 360 filmmakers, our high-quality 360 player allows you to upload up to 8K in immersive videos. Your audience simply clicks play, uses their mouse or arrow keys to explore, and the story unfolds before them. Pretty cool, if we do say so ourselves. And the gang over at RYOT thinks so too!
RYOT, an immersive, human-rights-inclined media company and five-time(!!!) Staff-Picked team dropped their latest 360 gem on us in March. Their incredible short, Bashir's Dream, centers around 14-year-old Qusai Bashir Masaama, a Syrian refugee living in Jordan, who is now confined to a wheelchair after being shot in the back by a sniper at the age of 10. RYOT used a 360 format to tell his story in both live action and animation, and the results are breathtaking and poignant.
RYOT's Head of Post Production, Travis Cook, has long been politically-focused with his work. He previously shot and edited 360 news and documentary videos covering Bernie Sanders' presidential campaign, Fidel Castro's death, and the water protectors of Standing Rock. Most recently, he served as the Head of VR for Hulu's first 360 sketch comedy show, "Virtually Mike and Nora," and he is an Executive Producer on Hulu's first 360 documentary. He's seriously a wealth of 360 video knowledge and wonderfully agreed to answer some of our questions about RYOT's experience and process with 360 video.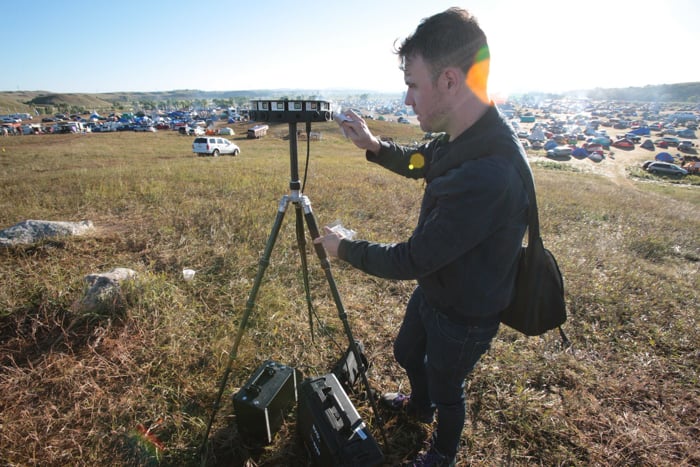 What was your first 360 video and how did it go?
Our first ever 360 video captured the immediate aftermath of the 2015 Nepal earthquake. Shot on a six-camera GoPro rig, we ran into every technical problem you could imagine. One of the cameras stopped working, we had a few smudged lenses, some settings were wrong, but, despite all that, audiences reacted so viscerally to the finished product. The experience of standing among the earthquake's devastation was more powerful than we anticipated. We immediately knew we stumbled onto something special.
What are some key differences between standard filmmaking and 360 filmmaking?
When we first started working in the 360 video space, we quickly realized we needed to rethink every part of the filmmaking process. Even the most basic elements of shooting documentaries present new challenges. How do you execute an on-camera interview? How does your sound guy record natural sound during a scene while staying out of the shot? Can you go handheld with your VR rig? How can you move the camera without making the viewer barf?
Where standard filmmaking relies heavily on visual creativity, 360 filmmaking centers more on spatial creativity. Take the time when shooting 360 video to pick the best spot to place your rig so there is something interesting to look at in all directions.
How does it affect pre and post production?
Because the technologies surrounding VR advance so quickly, we change our workflows every 2-3 months. We must constantly adapt to new camera rigs, new stitching techniques, new software, changing audio formats, and evolving delivery specs. It's exciting, but it's also a pain in the ass. We often spend more time troubleshooting than actually creating something.
Anyone working in 360 video will tell you the phrase, "we'll fix it in post," is the scariest thing to hear. So many of the tools a standard filmmaker has at their disposal wont easily translate to 360 filmmaking. And many of the clever fixes for shooting mistakes don't apply, either. You can't hide bad footage behind clever b-roll, you can't edit around an actor's bad performance, and — just like it goes in any creative project — everything is going to take longer than you think.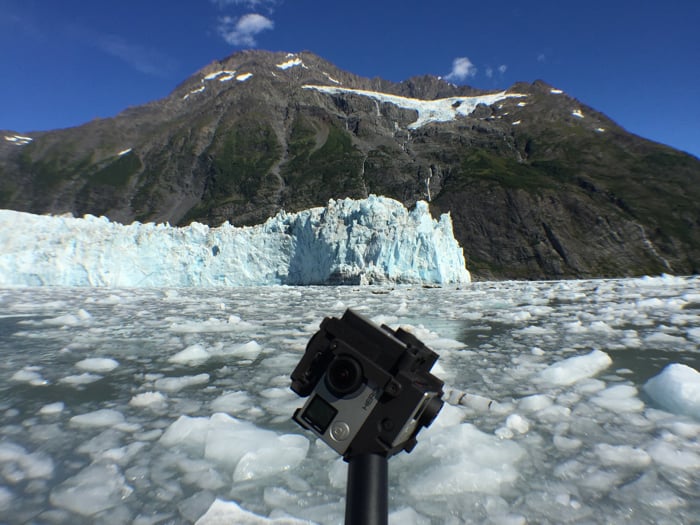 What equipment or software do you like to work with when creating 360 content?
There is not a one-size-fits-all option for selecting what 360 rig to use. Using a system with a cloud-based or a nodal self-stitching option is a nice perk, especially if you're up against a tight deadline (we have had good experiences with Google's Jump stitching platform).
For post production, we find Adobe Creative Suite has the best tools for working with 360 video. However, editing can still be particularly challenging. As much as you can, watch your cuts in a headset. Pacing and timing feel very different between watching flattened panoramic video on your desktop, versus watching it in a Samsung Gear VR or Oculus.
Any advice for aspiring 360 filmmakers?
Keep experimenting. All of us working in the 360 space are beta testers for this new art form. The storytelling language is being written and rewritten every day, and all of us have the opportunity to chart new ground. Keep reading and researching, and watch a lot of VR. Remember it took 20 years from the first time people watched film in a theater to when the first feature length film was made. It's anyone's guess where these new technologies will lead, but every time a filmmaker pioneers a new technique or style, we get a step closer to fulfilling the potential of 360.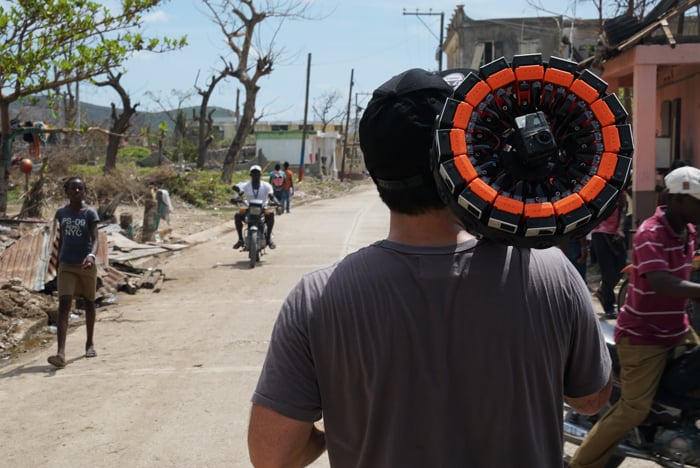 Couldn't have said it any better ourselves, Travis.
Thirsting for more 360 video knowledge? Check out Vimeo's Fundamentals of 360, for great tips and tricks!