Think all Vimeo Staff Picked creators spend months pre-planning, scheduling, and scouting to create astonishing videos? Some certainly do. But others, like seven-time Staff Picked director Brandon Li, employ an alternative approach: improvisational filmmaking. As Brandon described recently during his seminar at B&H headquarters, this technique is all about creating a film out of the unexpected, with minimal planning and forethought, and improvising when needed.
How did Brandon pick up the skill? He began his career in reality TV, working his way up from freelance shooter to producer. More often than not, he found himself operating nearly as a one-man show, tackling everything from shooting to directing and more. And as is common in reality TV, there was no guarantee of a storyline or script — so much of what Brandon filmed was improvised. These learned improvisational skills led directly to his success in the broader filmmaking world. Below are some of the key tips he's learned, fit for every stage of the journey.
Recommendations > pre-planning
For many of Brandon's Staff Picked films, he abandoned the pre-planning or advanced scouting. Take his experience shooting Balinese: Brandon was traveling from remote town to remote town, and on a whim, decided to ask a local taxi driver to take Brandon to the village where the driver grew up. In addition to being a highlight of Brandon's trip, it also became a highlight of his short: there he encountered incredible people, along with the ancient custom of a tooth-filing ceremony, one of the main scenes in his film.
Similarly, when filming Hong Kong Strong, Brandon was traveling with no set agenda. A friend recommended that he check out the Chinese New Year candle lighting ceremony at a local temple, and he took the tip. He was captivated by the excitement and madness of the tradition — and started capturing it, right on the spot.
Delve into improv technique
Brandon often stumbles onto scenes that he wants to film. He emphasizes that in these cases, filmmakers should just start shooting to establish the scene, and then go in closer for the interesting angles and multiple takes. Brandon stresses, "Seek a moving subject and find unusual angles. If you're uncomfortable, you might be doing it right." Why? "It means your audience has probably not seen that often."
There's another challenge many improv filmmakers face: how do you film strangers? Brandon is an expert on this, carefully and respectfully filming strangers in remote areas who are often not used to foreigners, let alone cameras. In some cases, people are weary, and it is up to Brandon to diffuse the situation in order to capture the shot. He advises:
Try to set up all the gear beforehand, and do so away from the person.
Pick the right moment and approach them slowly so as not to freak them out.
Most importantly, smile! As best you can, ask if it's OK to film — and don't violate their comfort zone unless you get some sort of approval.
It's important to note that improvisation extends beyond travel and spontaneous filmmaking. Brandon applies them to narrative films as well, particularly in how he works with actors. As Brandon describes, "I let [actors] improvise dialog — and I shouted suggestions from behind the camera." Even though improv filmmaking can be spontaneous, that doesn't mean it's not collaborative.
Get the right gear

Not surprisingly, less is more here. For Brandon, having the right equipment that can fit into his backpack and keep him mobile is essential.
Brandon primarily uses Sony cameras — specifically shooting with a slew of Sony A7s that give him high-quality shots without too much weight and bulk. He relies on a Gimbal Zhiyun Crane to keep his shot steady for those unsteady times stretching himself in weird and uncomfortable positions. And like all creators, he gripes about his camera's battery life, especially when he is in remote areas with no electricity. Thus, he usually "Macgyvers" a series of mophie battery packs to his camera and crane, among other on-the-go techniques.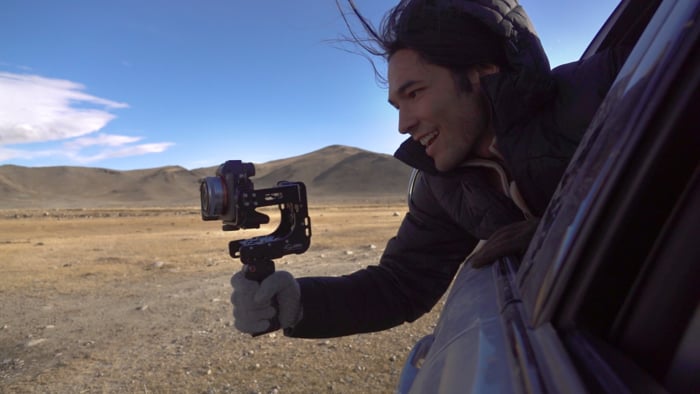 One of Brandon's biggest pieces of advice was not to worry so much about having the latest and greatest camera and gear. As he puts it, "While you're picking your camera, some else is getting the shot."
Instead, rather than fetishize on gear, go out, shoot, and practice your skills. "Shoot something every day if possible. With whatever gear you have. Filmmaking is a sport that requires regular practice."
As Brandon demonstrates, creating beautiful and captivating videos doesn't require months of pre-planning or expensive gear. Keeping in mind a few improvisational filmmaking techniques will ensure you are always ready to capture the shot any moment.
Brandon Li, known as the "nomad filmmaker," is a director and editor specializing in short films about world cultures. His work has been featured by 'National Geographic,' 'TIME,' BBC, and Vimeo Staff Picks, and commercial clients include BMW, Nike, Cathay Pacific, and Etihad Airways. Brandon's known for using innovative techniques for run-and-gun filmmaking. You can see his more of his work at unscripted.com.