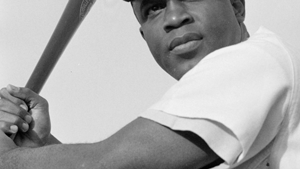 You're probably familiar with the Ken Burns effect — a slow pan or zoom added to a still photo to direct the viewer's eye and make the content less static and more interesting. It's become somewhat of a standard for presenting stills in video, especially since it was added as a tool in iMovie many years ago. It's a nice technique, and can be appropriate in certain contexts, but it's not the only way to spice up your stills. In this Video School lesson, we encourage you to use new and interesting ways to present still photos and archival material in your films!
For their new feature documentary "Stand With Me," our friends over at Stillmotion developed a creative way to present the photographs and archival images in their film. They call it a photoscape, and we really like the fresh new spin they put on old photographs. They created this tutorial for their Storytelling with Heart workshop, which is sponsored by Kessler (and is happening across the country right now!) Take a peek:
As Patrick explains, because so much of their film includes photography, they needed a way to creatively display photos that would match the style and aesthetic of movie. Here's how to achieve their photoscape effect:
You will need:
1. Printed photos and an appropriate background
2. A slider, preferably one with a motor. Patrick is using the Stealth Slider and the series 100 motor
3. A camera (duh!) and a zoom lens
4. Ambient audio recording
The breakdown:
1. Print your photos. If the photos you have available are low resolution, remember you can always print them small. Also, try applying a filter from Instagram or VSCO to cover up low quality photos or to give mismatching photographs the same look.
2. Choose an appropriate background. For the images of a child's lemonade stand, they used a chalkboard. Think ethic textiles, interesting paper, a wood table, grass — think outside the box!
3. Choose an appropriate speed and a direction. Patrick recommends setting the slider at the same speed for each photoscape, and also shooting the same direction each time (for example, left to right or bottom to top) so that you can cut between different photos seamlessly in post.
4. Shoot! Use a zoom lens so you can easily switch between a wide, medium, and tight shot of each photo.
5. Add a soundscape. Record ambient sound at an appropriate location and add it to the sound mix to enhance the feeling of the atmosphere depicted in the photo. For the lemonade stand photo, they used sounds of children playing in a park. Think crickets chirping, the sound of a runner's feet on the pavement, or a distant piano sonata — whatever you imagine you'd be hearing if you were inside that photograph.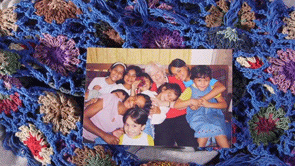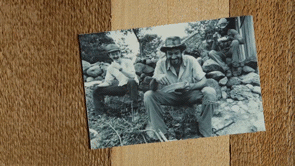 Other tips:
• Make sure your photoscape is well lit! Use indirect light and diffusion to avoid glare on your photos and background.
• If you're recording your own soundscape, use a good microphone and brush up on these tips for capturing good sound. You may also want to create your own foley!
There are many other ways to display photographs and archival material in your film. Let's take a look at a few other examples of ways that filmmakers have creatively presented their material:
Show context
First, in a simple yet effective approach, the creative people over at Nomadique shot their subject's photo album from overhead for their short "American Value: Herb Dishman: China, TX". The way the photos are placed in the book tell as much about the subject as the photos themselves. Keeping them in this context was a strong choice.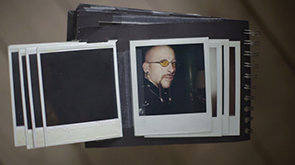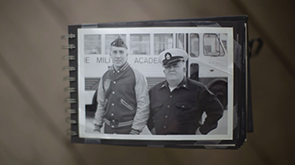 Blend in
If photographs are an integral piece of your story, you may want to consider displaying them more candidly and organically. In Ben Kitnick's "The Photo Man" and Julien Lasseur's "The Thingmaker," photographs are displayed within the context of their natural surroundings, and in the hands of the film's subjects.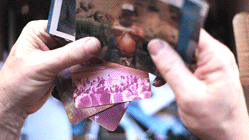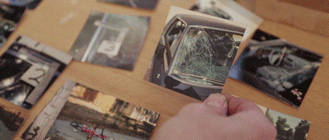 The parallax effect
Another option is to add this super neat animation technique called parallax to your photographs. You can read all about this effect and how to achieve it in this post over at The Creators Project (don't forget this follow up post as well!)
Also, watch this effect applied to old paintings in Rino Stefano Tagliafierro's B E A U T Y.
To his credit, Ken Burns has started using the parallax effect in his films. It's the way of the future, you guys!
See you next time, when we explore holograms! (Just kidding?)