It's no secret: we love videos and our amazing community of creators who make them. We have always tried to be the best place on the nets for those videos — and that means we want to seamlessly connect viewers with the filmmakers and businesses behind the magic. To help people discover and share all the incredible things hosted on Vimeo, we are focused on following the best practices surrounding video SEO. While it's up to creators, marketers, and businesses to write engaging video titles and descriptions, we do the heavy lifting to make sure your videos are indexed and surfaced across all major search engines and social platforms.
Vimeo gives your videos the chance to really stand out on Google, Bing, Facebook, and other sites through highly engaging previews and tons of additional information like descriptions, durations, and publish dates. In the competitive world of SEO, providing the right set of data to engines and social platforms is the best way to help people find and connect with all the stuff you and your business work so hard to create. Below, we'll show you what's behind the oft-opaque curtains of the SEO world.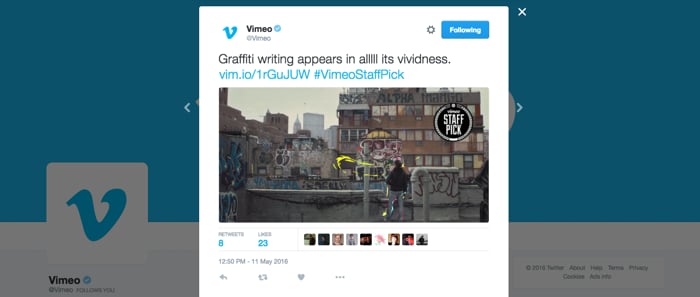 Rich snippets
A rich snippet for video is the thumbnail preview that shows up in mobile and desktop Google search results. For every video that's hosted on vimeo.com, we provide the right set of metadata to help your video preview show up in Google and other search engines.
Back in July 2014, Google made an update to their search algorithm that limited these rich video snippets to a select few websites. This was part of a push to solidify the dominance of YouTube in the organic video discovery space. So what's the good news? Since Vimeo is a true video hosting platform, and not simply a storage site for all of your videos, it is one of the few remaining companies that still ranks on the organic search page with video snippets.
Why do rich snippets matter? The organic results page is the lifeblood of many websites and businesses, and these snippets provide a big leg up on standard listings. They present an engaging link to your video with a still thumbnail that increases your organic click-through rate (CTR) and drives more views.
Structured data
Structured data (or microdata) is a standardized way to tell search engines how to index content on a webpage. By providing the right set of structured data, Vimeo allows your hosted videos to appear in search results as rich snippets.
There are a few other important forms of structured data Vimeo automatically provides that are essential for both SEO and social media marketing:
Schema.org is a shared set of definitions for structured data, supported by Google, Microsoft, Yahoo, and Yandex
Open Graph, Facebook's markup, is used to determine what info and images are automatically displayed whenever a page is shared in a post
Twitter Cards are markups that pull in images, videos, and text, and displays them in a "card" when a page is tweeted out to the world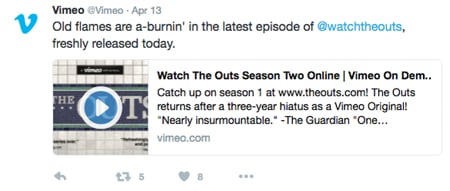 If you're interested in checking out all of the video microdata automatically generated by Vimeo, just enter a video page URL in Google's structured data testing tool.
By providing rich snippets and social metadata, we're here to help you take the first step in reaching your viewers. But hosting your videos on Vimeo should be just one part of your overall online video strategy. Marketers need to utilize video at every stage of a viewer's journey, whether that's gaining exposure through sites like Vimeo and Facebook to establish a deeper connection with your brand, or embedding videos on your site to educate consumers and drive sales.
<
p>That doesn't mean you have to do it all on your own though: we're here to help! You can pick up tips for creating a video marketing plan, learn from other businesses that are driving engagement
through videos, or go further and peruse our archive of business tips.