Liberté, égalité, fraternité. If you're a PRO member, now you can revolutionize your video workflow by adding up to three team members to your account. Très bien! Gone are the bourgeois days of adding secondary email addresses and sharing your password with colleagues. Instead, you can invite your teammates to join your Vimeo account to help manage your videos and collections. But not all permissions are created equal. You'll still be the account owner, and the people you add won't be able to delete it, or alter your profile settings.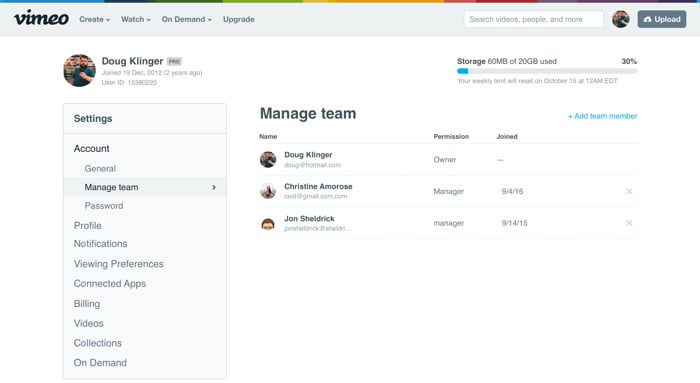 Here's how it works:
Go to your settings and click on the new "Manage team" tab. Click "+ add team member" and in the window that pops up, enter their email address and a brief note. (Hint: to make their lives easier, enter the email address associated with their Vimeo account.) Once you hit send, your teammate will receive an email inviting them to join. When they accept, they'll have access to your stuff including (but not limited to):

Purchasing Vimeo On Demand titles

Setting up Vimeo On Demand titles for sale, including entering a PayPal email address to receive payment for sales
Creating, managing, and deleting collections
Changing the privacy settings of your videos
You can return to the "Manage team" tab in your settings at any time to check on pending invitations, send reminders, and remove people (off with their avatars!). Easy as Marie Antoinette's cake.
If you're invited to join another person's Vimeo account, you can assume their identity (ish) by hovering over your avatar and clicking "Switch accounts."
So the next time you need your DP to upload some clips, or your editor to drop the latest cut on your account, simply send an invite their way and voilà! C'est magnifique.
Happy Bastille Day, PRO pals!