Today we are very proud to announce the release of a new service, Vimeo PRO.
Vimeo PRO is a simple and extremely affordable video solution for businesses. We've been hearing from companies for years about how they would love to use Vimeo for commercial purposes (something our current platform prohibits) so we've built a service and added some tools that we think small businesses and organizations will find very useful.
What's new with PRO?
We've introduced some awesome new features!

- Portfolios allow PRO members to create unique, stand alone, fully customizable websites, without any Vimeo branding, to promote and showcase their videos and service. Need a website? With Portfolios you can create one in minutes without having to type a line of code. We're launching with several themes to get you started, and there will be many more to come. We even have custom domain support and built-in video SEO!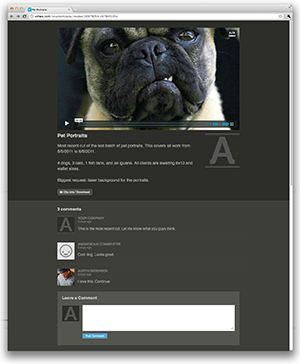 - Video Review Pages give PRO members a way to share unbranded and unlisted video pages with clients or for internal use. We are also allowing anonymous commenting as well as added password protection privacy.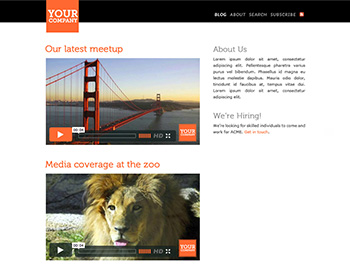 - Brandable video player options gives PRO accounts the ability to add their own logo to the player! All embedded videos will show your logo, no matter where they are embedded or shared. - Third-party video player support if you don't like ours ;) We think our player is pretty awesome, but we know you might need something we don't offer. Now you have even more options! - All the best features of Plus are included as well, including Advanced Stats, Unlimited HD uploading, HD embedding (up to 1080p), priority uploading, and great mobile, tablet and TV support.
How is PRO different?
Vimeo PRO lives as a separate service - invisible to the Vimeo.com world - and offers all the same tools and features to publish videos. Since most companies only need the Vimeo technology to upload and publish videos for their businesses, Vimeo PRO accounts do not have access to the Vimeo community by default, meaning PRO accounts' activity and videos will not show up on Vimeo.com, and they do not have the ability to like or comment. We've taken this step to keep commercial content hidden and maintain the current Community Guidelines. From what we've seen, most companies only care about being able to embed their commercial video, so we believe this private system accounts for the huge majority of business use cases.
However, we know there are those that are still going to want to be part of the Vimeo community. For them, we've built a 'Community Pass' system to allow PRO members to interact on Vimeo.com just like a Basic or Plus member. This allows for the individuals and organizations who need the extra features of PRO, but still want to participate on Vimeo.com. That's fine as long as they play by the rules.
In short, if you like the way Vimeo works now, don't worry! Very little will change. If you're a company, you can now enjoy the same great player, compatibility and video quality Vimeo is known for. We've been working on an elegant solution that integrates business for two years and with PRO we think we've found it.
And best of all, PRO is super affordable. PRO accounts get 50GB of upload space, all at once, as well as 250k embedded video plays for $199 per year. This package is literally the lowest possible price we could offer in order to make this account as affordable as possible for the small business community. We understand this model is a change to our current offering compared to Vimeo Plus, but if you compare this package to any other video hosting solution for business, these numbers are a steal. Seriously, check around.
Is PRO an upgrade over Plus?
No! We built PRO specially for business and Plus specifically for people. We're going to continue to improve the Basic and Plus account just as we always have. A huge amount of effort was put into making PRO work within the current Vimeo ecosystem, that means as we grow, everyone benefits.
This launch of PRO is just the beginning. As always, we will continue to monitor the response from our customers and improve the service in coming months, just like we've done with Vimeo Plus. Stay tuned for more awesome!
Interested? Get PRO now.
Love,
Vimeo
Important: In order to incorporate the new PRO service, we have updated our Terms of Service and Community Guidelines. Please take a moment to review the new Terms-- Most of what was in the old document is still here, but in language that's much more concise and (we hope) easier to understand. Things like your licenses to Vimeo and our Code of Conduct haven't changed in substance. Mainly we shortened it. A lot. We've also lowered the minimum age requirement from 15 to 13 (the rules regarding parental consent still apply) and we reserve the right to disable basic accounts after 6 months of inactivity (previously it was 90 days). An account is 'inactive' when it hasn't been logged into.
P.S. If you are thinking of switching from Plus to PRO, please read this important FAQ entry before you do. We are offering ALL current Plus members the ability to switch to PRO for $139 till August 31st! Again, PRO is quite different from Plus in how it works, so please make sure you are absolutely sure PRO is right for you before you switch.