Beyond visiting vimeo.com in your mobile browser, there are a handful of other ways to upload when you're on the go (or simply taking a break from the ol' ball and computer). For instance, our free app for iOS makes uploading videos from your Camera Roll insanely speedy.
Part 2: Vimeo for iOS

Once you've downloaded our iOS app for free in the App Store (for your phone, or your tablet), tap the Vimeo icon to open it, then log in.
Tap the "v" icon in the top-left corner, then tap "Upload."
Tap on a video you'd like to upload. Note: once you select a video, it will start uploading automatically!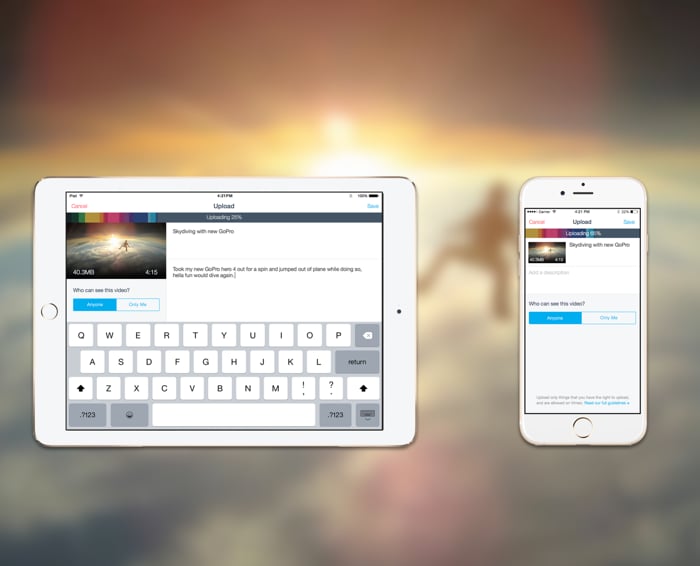 Next to and below the thumbnail, you can add a title and description, and choose to make your video visible to the public, or private to only you.
Once the upload finishes and you hit "Save," you'll be taken back to your Camera Roll, where you can select additional videos to upload. Any videos you've already uploaded will have a green checkmark on them (tap to watch in the Vimeo player!).
To view your video, tap the "v" icon again, then tap "Me." You'll see a flashing rainbow as a placeholder until your video has finished converting. No need to wait around, though — we'll notify you once your video is online.
Wanna get extra fancy? Tap the iOS share icon on any video on your phone (in email, text message, Camera Roll, and more) and log in to your Vimeo account to upload in a hot sec.

**An updated Vimeo for Android is in the works!**


Previous: uploading via mobile web
<
p>Next up: uploading via Cameo for iOS