Hi, Vimeo community. I'm Harris, Vimeo's CMO, and I'm eager to share something that we've been working on for some time now: our first major brand campaign. I know that you know that Vimeo is not like other platforms. It's special. It doesn't monetize your views or put ads on your videos. This community (you) is more inspiring and supportive than any other in the world. Vimeo uniquely stands for you, our creators, by providing tools for you to make beautiful videos and reach your audiences, no matter where they may be. We have tools that make collaborating easy, our stats and analytics help you learn what's working in your videos (and what isn't), and our fully-customizable player lets your brand be front and center (not ours). The bottom line: we exist to serve you — our community. When I first started at Vimeo, we were evolving as a brand. We've always been a place for you to host your best work and to go to find inspiration. And we'll always be that, but we're so much more now, and we want you and the rest of the world to know:
Vimeo can help (with your videos)
. With that, I'm excited to introduce you to Vimeo's all-new brand campaign. Did I already say that Vimeo is home to the world's best videos? Because it is. I am constantly moved by the creative integrity, the powerful stories, and the authenticity demonstrated in the millions of videos on our platform. Your videos enliven long days of meetings. They make me laugh, they make me cry, they make me do that confusing combo of laughing/crying. And, above all, they inspire me. Working on this campaign was an exciting challenge. Your talent and stories are what make our platform so exceptional, and you've set a high bar. We knew that Vimeo's first-ever brand campaign needed to meet our community's standard of incredible storytelling. It had to capture the spirit, grit, and humor of our platform. And, OK, it had to be a little weird. We partnered with creative agency FIG and enlisted Emmy award-winning creative genius and
Vimeo creator, Alex Prager
, to help us realize this vision with 14 unique videos that showcase some very relatable heroes in some downright unusual predicaments. We wanted to capture the world's attention with these moments, and in doing so deliver on one simple, reassuring message: Vimeo can help. With your videos that is. We also released a series of billboards that surface some of the Vimeo features I mentioned earlier. These ads demonstrate exactly how Vimeo can help (and some ways we can't). You'll see them out in the world with a simple and straightforward text-only design. I hope you enjoy checking out the campaign as much as we loved producing it.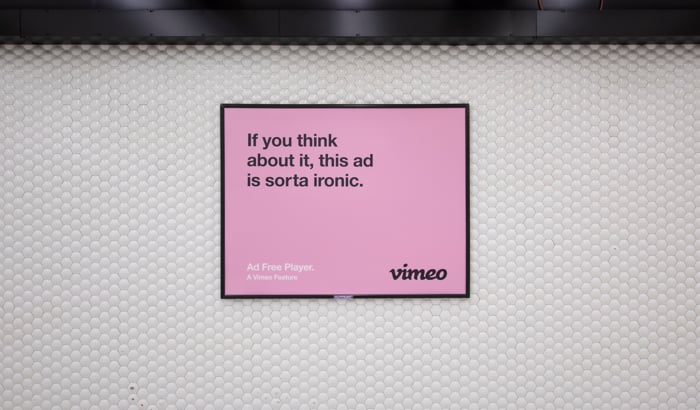 It's an honor for us to serve you, Vimeo community, and we can't wait to see what you create next. Cheers, Harris
Meet the director behind our 14 new brand films, or learn all the ways we can actually help you with your videos.