More and more creators are using live streaming to tell their stories. So, naturally, we're giving our creators the best tools to create live events. We launched live streaming in 2017, and with Livestream joining the Vimeo family, our members get to benefit from more market leading tools for their live event workflow.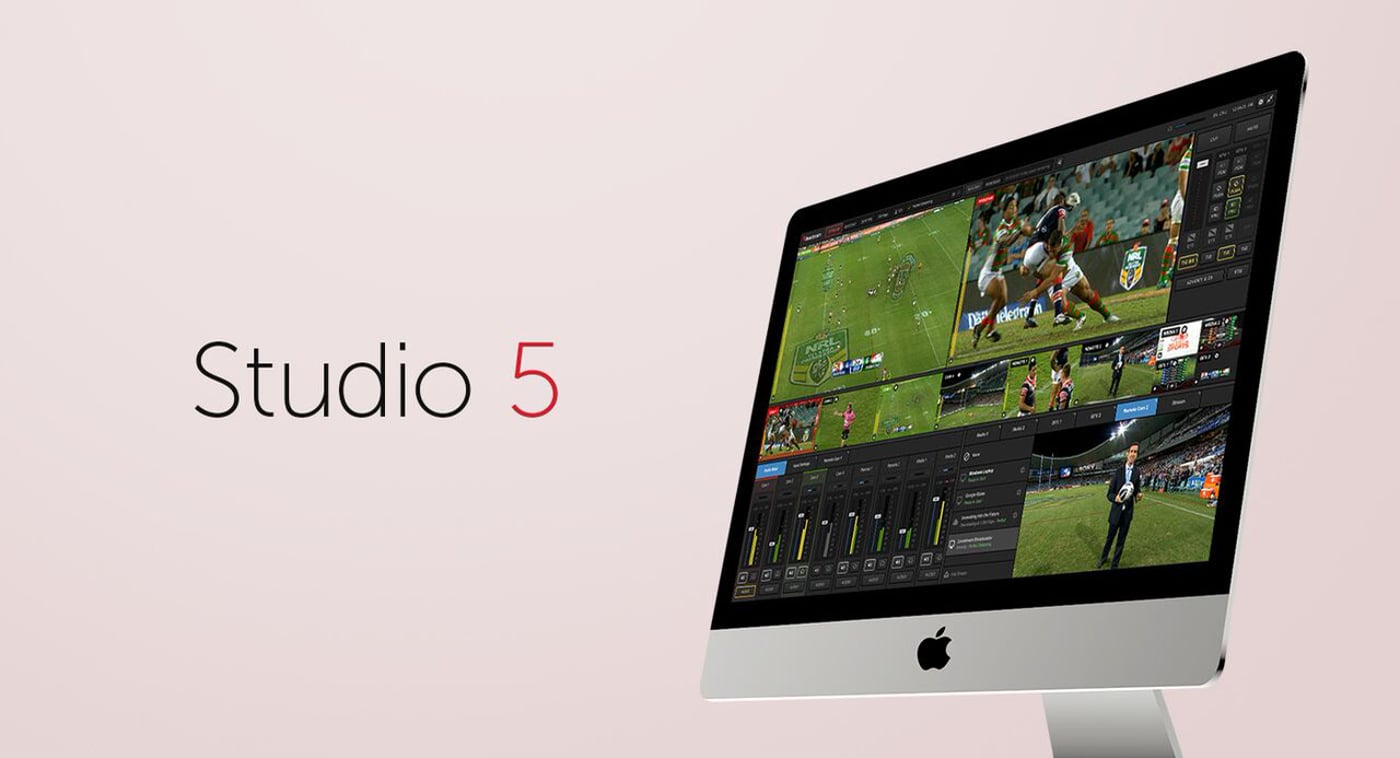 We are thrilled to share that Vimeo Premium now includes Studio 5 encoding software, that enriches your live event production with advanced capabilities like multi-camera switching and graphics. That's a $799 value that we're gifting to all of our Vimeo Premium members, to empower you to produce high-quality live video.
Why do you need encoding software to stream?
With live events, you need an encoder to process the live stream from your camera into a format that can be streamed to platforms like Vimeo, Facebook, and YouTube. Unless your camera has a built-in encoder, such as the Mevo live event camera, you will need to use a standalone hardware encoder, or an encoding software, like Studio 5, that allows you to process your live video through your computer without additional hardware.
Studio 5 transforms your computer into a professional live streaming studio

Studio 5 makes live streaming with Vimeo Premium easier and more dynamic. It's a professional grade, cloud-based, live-encoding software that transforms your computer into a live production control room with features like multi-camera switching and graphic overlays.
Studio 5 now integrates seamlessly with Vimeo, allowing Vimeo Premium members to take your live stream to the next level in one robust, easy-to-use package:
Pull multiple cameras and wireless sources into your stream, allowing you to switch between cameras or even pull a video or slideshow from an additional laptop as you stream your event.
Add graphics, logos, and lower-thirds.
Chroma key/green screen allows you to manipulate the background of your stream.
Master audio levels to control the sound in your stream.
Stream with frame-accurate live switching and compositing, up to 4K.
Pull in a browser-based live interview feed to your stream.
Use virtual camera crop with 4K to simulate a multi-camera stream.
Stream multiple, simultaneous isolated (ISO) recordings from a single source.
Stream to multiple destinations simultaneously to maximize your event's exposure, including Vimeo or your website, Facebook, YouTube, Periscope, Wowza, Adobe, Akamai, and more.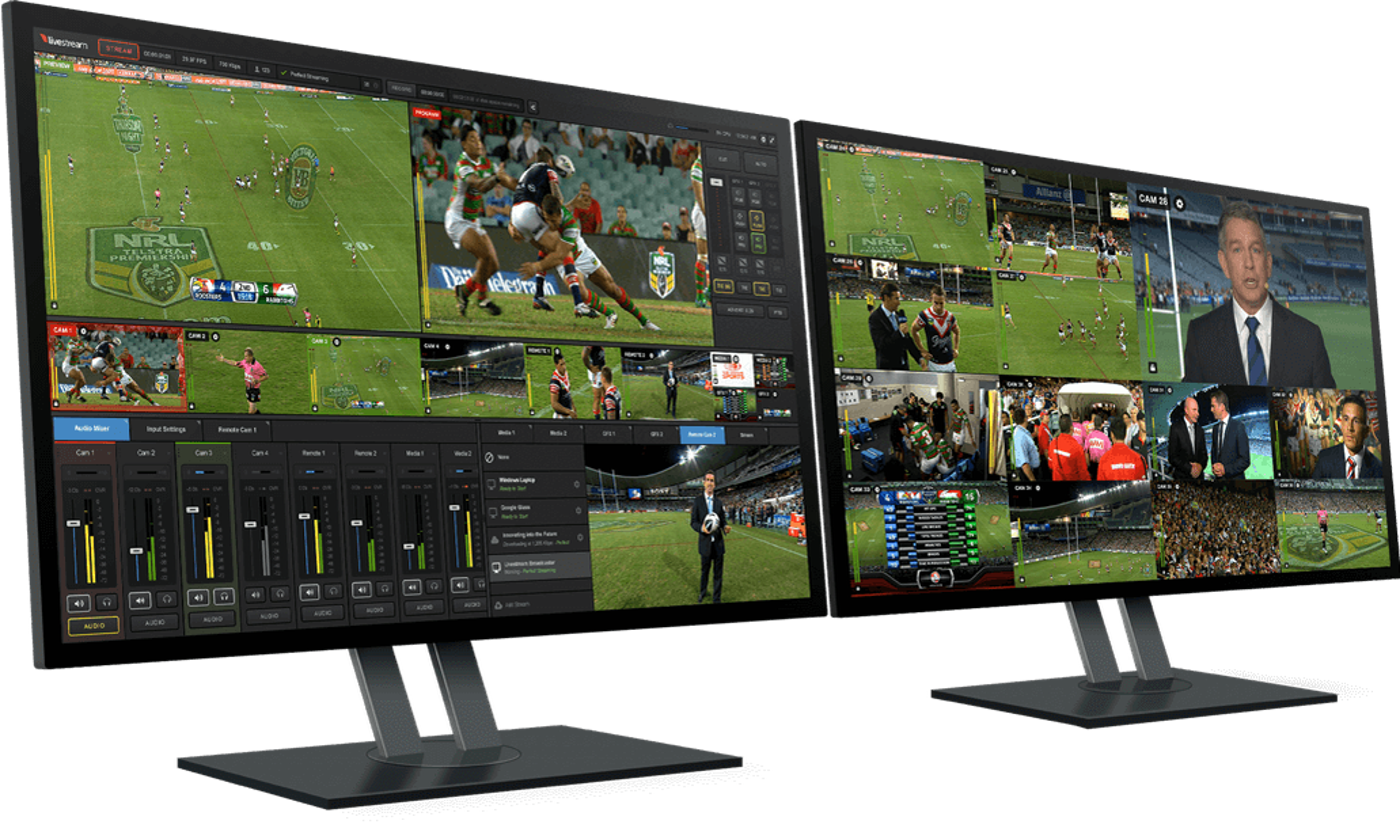 The combination of Vimeo Premium live streaming platform and Studio 5 switching and encoding software, compliment each other to provide everything you need to manage a robust, professional live event with ease.
Ready to explore Studio 5 for your next live stream? Launch a live event from your Vimeo Premium account, and you will be served the option to download Studio 5. Not a Vimeo Premium member yet but want to see what Studio 5 has to offer? Start a free demo and download Studio 5 during your demo event setup.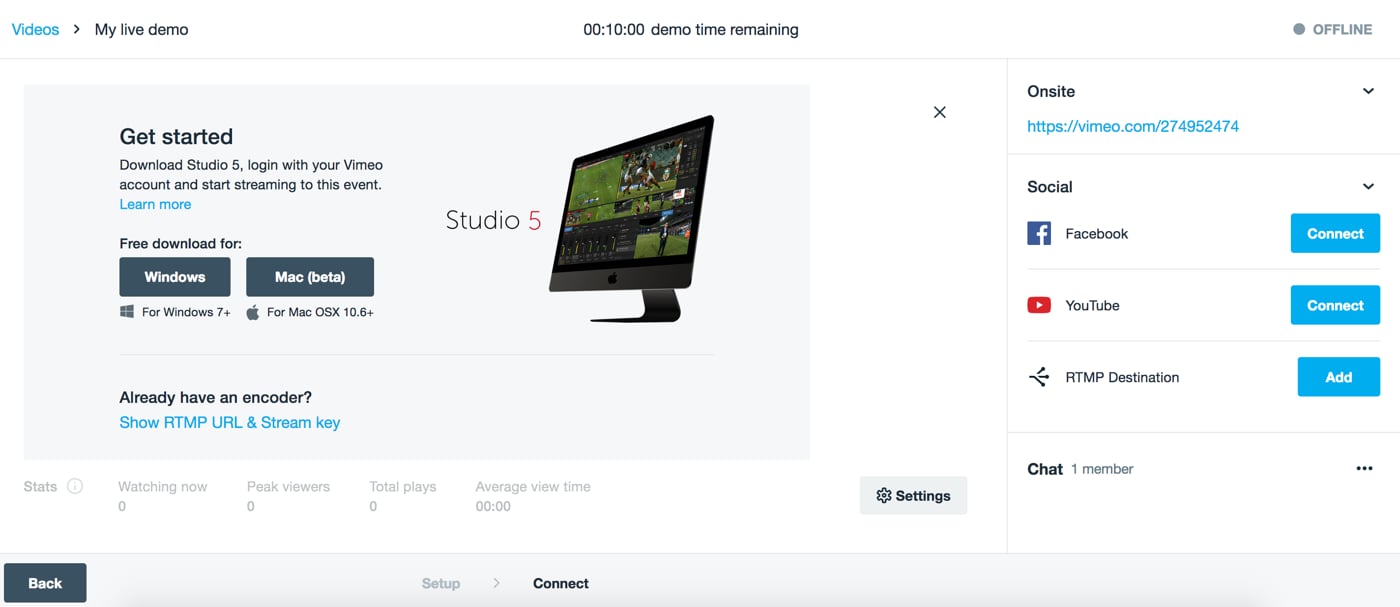 Once installed, simply use your Vimeo login to sign in to Studio 5, select your Vimeo live event or create a new one. You can preview and go live in seconds using your webcam or any supported camera.
Ready to take your live stream to the next level? Log into your Premium account today to download Studio 5 or try out a free demo.