Because you've worked hard on creating your content all year long, you'll want to end the year enjoying the fruits of your hard labor. The holiday season is a great time to focus on boosting your sales and growing your audience. If you're not yet familiar with Vimeo's over-the-top (OTT) platform, it's a one-stop shop for setting up and distributing your own video subscription network.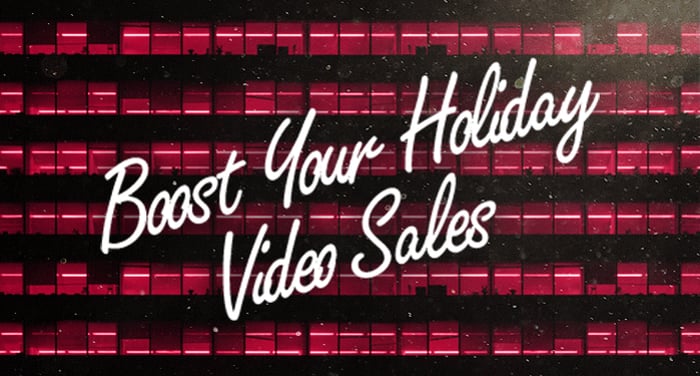 It's not a shock that we see the most gift subscriptions purchases in December each year. Last year we saw gift purchases quadruple! But it isn't only gift purchases where we see sales numbers climb in December. Subscription sales were up 23% leading into the holidays, and the week after Christmas we saw a 19% jump in sales versus a typical week.
So how can you bring your "A" game when it comes to growing your sales over the holiday season this year? We've crunched the numbers from existing Vimeo OTT users to share some data-driven tips and tricks — read on to find out.

Remind your existing customers about gifting
Most businesses see their sales peak for the year from Black Friday through the end of December, and digital video is no exception. Last year we saw gift purchases increase by 69% on Cyber Monday. The added bonus of digital video and subscriptions is that last minute shoppers love them! They are easy to purchase from the comfort of their home and arrive immediately (or whenever the customer specifies) to the recipient's inbox.
You can promote gifting on your social networks, site forums, and/or by messaging your existing subscribers. All they need to do is hit the "Gift this" option when they checkout.
Release some holiday cheer
If you're adding some holiday-related content to your subscription, be sure to promote it on social media and in updates to your customers. Fitness and instructional networks have had success by releasing holiday-themed workouts, crafts, and recipes. If you are using OTT Live, why not use it to broadcast a holiday greeting or stream a special event for your subscribers? Releasing timely content throughout the year keeps your customers engaged and can help you reduce churn on your network.
The holiday season isn't just about gifting
Consumers are also looking for ways to treat themselves, which is why discount promos go over huge during December. Last year, 50% off promo codes were the biggest hit. 1 month and 12 month promo codes were the most redeemed last year. It's also a good practice to display holiday promos on your homepage and across your social channels, so customers can easily find it. Dekkoo does a great job with displaying their promotions so new customers are enticed to subscribe.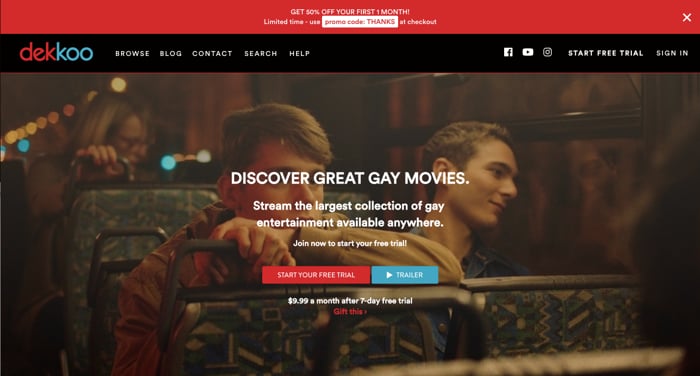 Free trials convert
Our free trial option is a powerful tool to help you grow your subscriber numbers.
Over 60% of people who sign up for free trials convert into paying customers. If you use branded apps, that conversion can be as high as 72%.
If you don't currently offer free trials, the holidays are the perfect time to try out the tool. You can offer 3-, 7-, 14-, or 30-day free trials. Different lengths work better for certain content niches, but overall we've found that 7- and 14-day free trials perform the best.
Say thank you
Customizing the thank you message your customers receive when they first subscribe is a great way to build loyalty from the get go. Use this opportunity to suggest which videos customers should check out first, share any links to online communities for your fans, or let your audience know what your mission is.
Set up a holiday campaign on social media
If you haven't looked at your call to action (CTA) on your Facebook page in a while, we recommend taking a peek at that again. It's a great way to encourage your fans on social to become subscribers. If you have branded apps, you can also direct your fans to check them out and subscribe.
If you have the budget, the holidays are the perfect time to give social ads a try. Lookalike audiences on Facebook are a great way to target prospective customers. If you're using Twitter, make sure you have a high quality trailer set up for your product. In fact, Twitter's own research shows that video posts get more engagement.
Try a holiday winback campaign
The holidays are an opportune time to win back former customers, too. Extend the giving season to them by sending an exclusive promo for giving your network another try. We recommend highlighting any new content that you've recently released, letting former customers know what exciting new videos you have scheduled for 2019, and/or using the new Top Videos feature to call attention to your most popular content.
Start planning today
Don't wait till December 24th to roll out your holiday sales plan. Last year sales increased by 40% on Cyber Monday, and by 24% that following weekend, so it pays to have a game plan in place. Having a growth boost at the end of the year can set you up to ride that wave of success throughout the coming year.
If you're thinking about launching your own subscription network checkout our OTT resource page for tips and success stories from current creators on the platform.