To introduce Vimeo 360 to the world, we wanted to create a playful, visually exciting 360 video to celebrate (A Vimeo 360 video on Vimeo 360?? It just makes sense.) We've always taken a "learn by doing" approach when it comes to video production — and while not a single person on our team had any 360 experience, we were all eager to jump in and get started.
We know that many creators may find themselves in a similar position. And we wanted to 1) encourage filmmakers of all stripes to simply dive in, and 2) document the journey, so all of us can learn together as one giant globe-sized Vimeo family. Dig into our behind-the-scenes video, and read on to see the challenges, inspiration, and balloon-filled moments we encountered.
First, we had to come up with a concept that would translate well to 360 filming and post-production. After a few "no idea is a bad idea" brainstorming sessions, we landed on a story involving a group of creative humans at a roundtable,debating various 360 video concepts while various immersive environments took shape around them. Meta, right?
Our thinking was that the camera could be positioned over the middle of the table, and that the conversation would move the viewer around the circle. As various people at the table voiced their thoughts about what type of video to shoot, the scene would transform around them, with a combination of practical and special effects creating the illusion that they were in a different video.
When it came time to plan the shoot, we knew we wanted the production quality to be as high-end as possible (who doesn't?), but also work with people who have tons of 360 experience. We reached out to Chad Koch and Meredith Marshall, who run the 360/VR-focused production company Excitement Studios. Chad, Meredith, and our DP John Engstrom (who owns NYC rental house Scheimpflug), helped us to better understand how the camera positioning and practical effects would translate to viewers.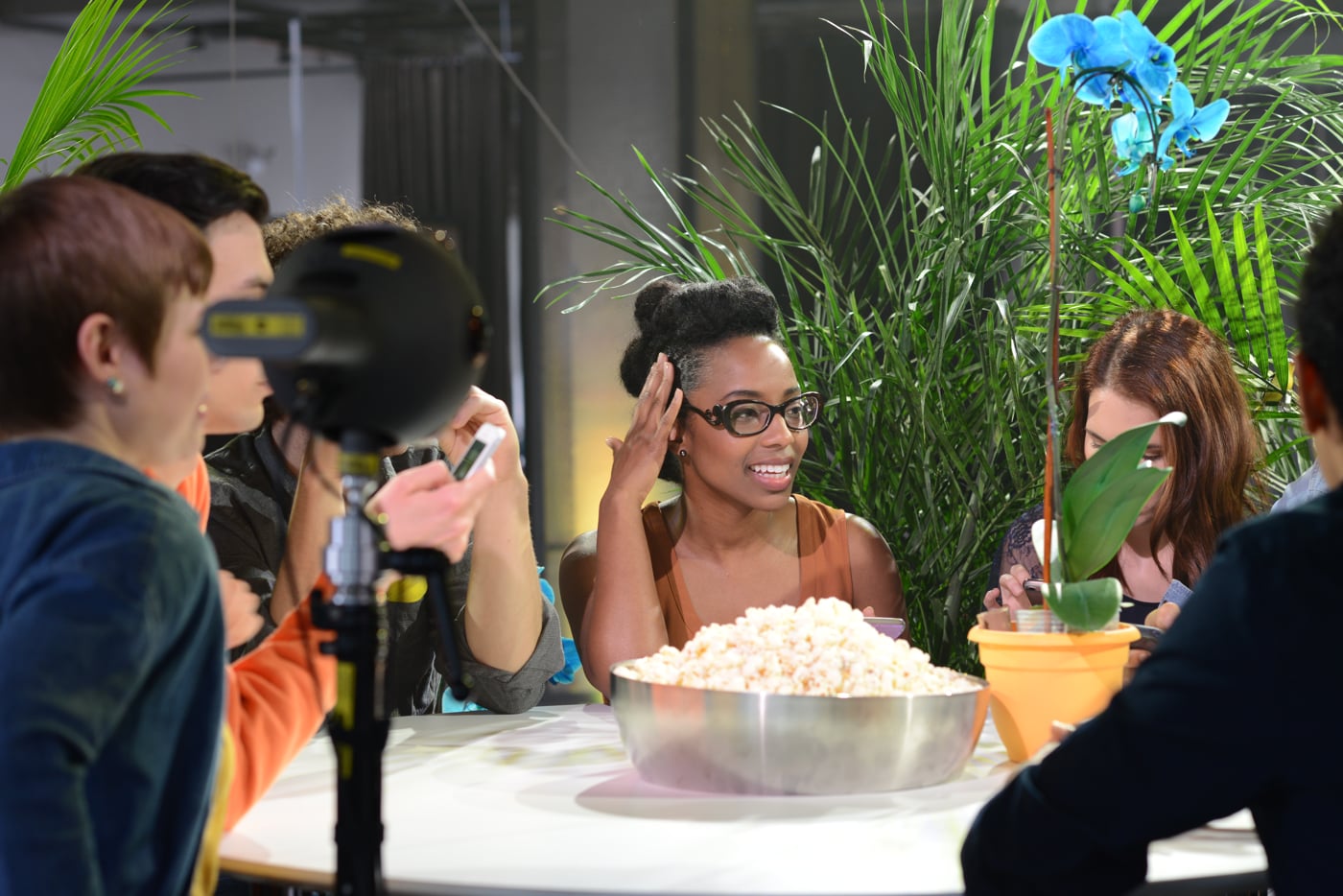 As a result of our conversations with them, we made the decision to position the camera "seated at the table," rather than hovering above it. We also reduced the amount of practical effects sections in the video (it turns out that huge balloons, cats, snow, and a jungle scene are more than enough for 30 seconds), so that we could focus on making each section as solid as possible rather than being stretched too thin.
While a 360 video with a sizable group and lots of practical effects certainly proved challenging, we think the final video captured what we wanted: Vimeo 360 is a cause for celebration and exploration, and our hope is that it also gives creators lots of ideas for exploring their own concepts. So start uploading, share what you're experimenting with, and let us know what you're learning on set, too! We're all eager ears over here.