Every February, New York City plays host to the Westminster Dog Show, the United States' preeminent canine pageant in which purebreds from around the country compete for the title of Best in Show. Seven months later and 150 miles down the interstate, another more modest competition takes place in the self-appointed "sweetest place on earth": Hershey, Pennsylvania. It's called Groom Expo. And whatever it may lack in pomp and circumstance, it more than makes up for in sheer flamboyance as the premiere event in the world of "creative grooming." Today's Staff Pick Premiere, "Well Groomed," takes us behind the scenes as we follow two of the hobby's stars. They vie for greatness by dying, coiffing, and ultimately reimagining their four-legged friends, whom they lovingly refer to as their "walking canvases."
Directed by Rebecca Stern, "Well Groomed" is a vibrant doc, literally full of color, centering around the friendly rivalry between groomers Adriane Pope and Angela Kumpe. Pope, who has never won Groom Expo before is the (ahem) underdog in the story, seeking to unseat Kumpe, whom she describes as "perfection." Both competitors have chosen equally ambitious designs for their poodles — Pope transforms her dog into a tribute to the 2014 fantasy film Maleficent, while Kumpe unfurls an underwater scene replete with fish, waves, and a mermaid contained entirely within one dog's coat. While Pope and Kumpe both strive to express themselves artistically, they are also playing to the judges' own tastes. According to Stern, "Their struggle to make art they love while focusing on winning recognition is a hardship I can relate to!"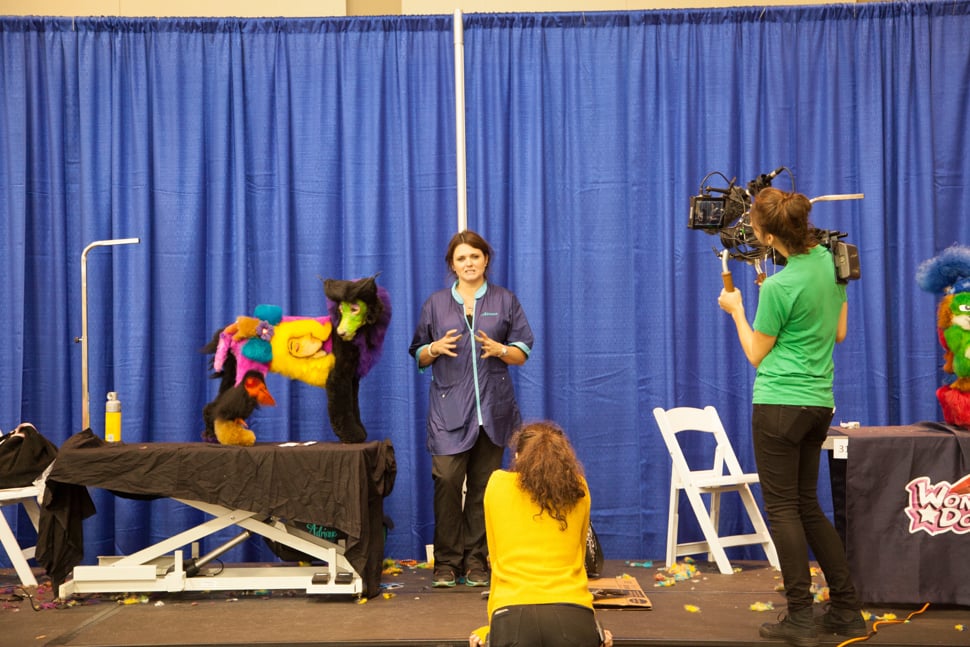 Although competitive grooming may sound a bit odd, or even tacky perhaps, Stern brushes those concerns aside by imbuing the film with curiosity and admiration for her protagonists. The film will inevitably draw comparisons to the classic Christopher Guest mockumentary Best in Show, but nothing is mocked in "Well Groomed." If we're laughing at anything, it's because the characters have invited us to laugh along with them as they pursue their admittedly strange hobby at the highest level. It's this earnest intermingling of eccentricity and dedication that makes the film such a compelling watch. As so many of us struggle to excel at our craft, "Well Groomed" is a friendly, humbling reminder that we ought to celebrate greatness wherever we may find it.
"Well Groomed" is currently being adapted into a feature length documentary! Stay up to date with the film's progress here.
Check out more of Vimeo's Staff Pick Premieres here.
If you're interested in premiering your short film as a Staff Pick Premiere, please check out vimeo.com/submit for more information.