Greetings, Vimeo denizens. Here's a quick thumbnail update for those of you with opposable thumbs:
We just introduced a new feature that enables you to take any frame from your video and turn it into a thumbnail (i.e., your video's preview image, visible before your vid starts playing). Our new thumbnail chooser allows you to scroll through the entire length of your video to find its sweet spot.
This means you are no longer at the mercy of our auto-generated thumbnails, and your video need not be represented by someone's face in mid-expression, eyes half-closed and mouth half-open like a narcoleptic's driver's license photo.
To turn any video frame into a thumbnail, all you need to do is:
Visit your video's Settings page.


In the Thumbnails section, click the "Choose" icon
Find the chillest frame in your video and click "Use This Frame."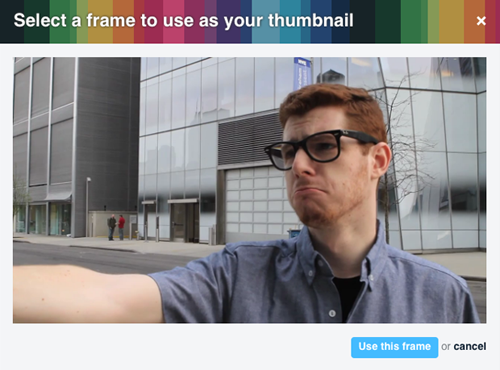 And now you're thumbnailin'.