These days, over half of Vimeo's traffic comes from mobile. But that's not so surprising given that over 3.6 billion people around the world own mobile phones, many of which are equipped with HD cameras. Now, millions of people around the world who never before had the ability to shoot and share videos are creating some pretty incredible things! And we're doing our best to keep up with the times, and share tips for shooting the best mobile videos possible.
A lot of those videos, though, wind up trapped in our Camera Rolls. But it doesn't have to be this way! When you upload your videos to Vimeo, you'll be able to:

Share them in our gorgeous HD player, without any pesky ads. Or, keep them 100% private.
Store your videos on our secure servers, add titles and descriptions, and organize them into albums.
Dig into our powerful stats tools to see how many people are viewing, liking, and commenting on your videos.
If you haven't already, join Vimeo (it's free!) to get started, then try out some of these handy means of mobile uploading...

Part 1: Mobile web

Cruise on over to vimeo.com on your mobile device and log in.
Tap the "v" icon in the top-left corner, then tap "Upload."
Now you can select your preferred privacy setting and tap the blue button and choose which video you'd like to upload to Vimeo.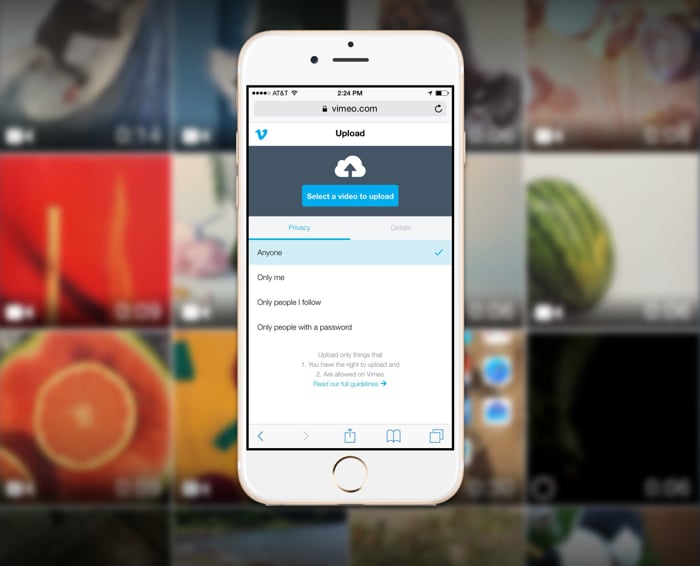 Tap on a video thumbnail, then hit "Choose." Your upload will start automatically so long as you're connected to the Internet. If you lose connection, we'll pause the video and resume once you've got a signal again.
While your video uploads, you can add a title, description, and tags, so it'll be ready to share as soon as it finishes converting.
Next up: uploading via Vimeo for iOS

<
p>